Design to Order Services for Video Surveillance Systems Making the World Safer with Cutting-edge Technology
Press release
Monday 5 November 2012
Airports make perfect environments for many types of crime, from theft, to smuggling, to terrorism. In recent years, an increasing number of electronic surveillance systems have been deployed in airports and other public venues to enhance security. Video cameras are used to record the huge and transient populations in these locations, and computers supporting these surveillance systems are not mediocre ones.
Our customer is a U.S.-based security intelligence solutions provider that helps to secure airports and enterprises with the latest video surveillance technology. When they came to us, they were under great time pressure to release a list of new products, and they needed to partner with experienced manufacturers who could quickly provide them with application-ready systems tailored to their requirements.
They turned to Advantech for a high-definition decoder, an IPC which, when used in an airport, could support networked videos for surveillance, as well as display information for infotainment purposes. Advantech took only five months to complete the model, and then it entered mass production.
Featuring a high computing power CPU, our customer has been selling this product not only to airports but also to many other locations for different purposes, including use for in-car surveillance in Formula 1 races, where it records both video and real-time biometrics of race drivers.
Requirements
- Full HD video outputs including TV-out with H.264 compression
- 2 RJ-45 + 4 USB 2.0 ports + 2 serial ports
- 1 DVI connector + 1 VGA connector + 1 BNC connector (NTSC/PAL composite)
- Compact and power-efficient
System
When used in an airport, this video decoder is multi-functional. First, it supports video cameras to carry out security surveillance over many expanses and corners of the airport, implementing primary video analytics and routing recordings to system management computers back in the control room.
At the same time, it is also connected to kiosks, thin-film monitors or other display installations in the airport where it implements interactive communications with tourists, providing flight, weather, next stop or duty-free information.
So the system needs a rich array of video connectors and I/O ports to meet these requirements. To enhance functionality and flexibility, it supports a range of compression standards from H.264 to MPEG-4 to MJPEG, and video outputs from DVI to VGA to traditional CCTV monitors.
On the other hand, so that it could be integrated with other systems or into a larger system, our customer wanted it to be compact, as small and thin as possible. They also expected it to be power-efficient and environmentally friendly.
In accord with these requirements, Advantech chose appropriate CPU, HDD and other components with careful calculations about power consumption, and put special attention on thermal design. Also, from inside to outside, the computer was designed to achieve the streamlined look that echoes this customer's brand image.
Conclusion
The increasing need for security is driving the expansion of the global video surveillance market, which is expected to grow to $37.7 b in 2015, up from $11.5 b in 2008, as Electronics.ca Publications reports.
In order to compete, major players in this market continue to expand their product portfolios with the latest technologies, with some making their products more multi-functional to allow for a single system to execute various tasks, as exemplified by our customer in this case.
Advantech, with 20 years of experience and profound domain know-how in a wide range of vertical markets, offers the best in Design to Order Services (DTOS), which help our customers introduce new products more easily and with faster time-to-market.
Another advantage of partnering with us is that Advantech is the only IPC manufacturer operating a world-wide logistics and technical support system. Leveraging Advantech's network, our customers can deliver longer product life assurance to end-users, and localized service as well.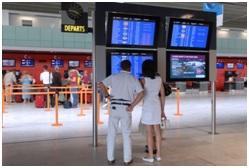 Video cameras are used to record the huge and transient populations in these locations, and computers supporting these surveillance systems are not mediocre ones.
Finding more case study articles
DIGITIMES' editorial team was not involved in the creation or production of this content. Companies looking to contribute commercial news or press releases are welcome to contact us.