Beijing Cancer Hospital Paves an Efficient Path with MICA-101
Press release
Friday 19 October 2012
The Beijing Cancer Hospital's radiation therapy department was founded in 1976. The hospital is equipped with seven laboratories and houses the research efforts of 80 scientists and technicians; it has become famous in the field of cancer research and treatment in China. It is also a member of the national base for clinical pharmacology and has completed numerous domestic, international, and medical equipment trials. The hospital has 790 beds, 26 clinical departments and 13 technological departments, with an annual outpatient base of 230,000 and an inpatient base of 28,000. Recently the hospital championed a program to improve their electronic medical records system, and build up a mobile nursing environment to provide the best and most efficient service possible for its patients. Hospital administrators were looking for a portable device that was reliable and lightweight, with long-lasting battery support and easy connectivity to their existing medical computing systems. They wanted a system that could deliver real-time access of patient-critical information to extend the reach of information technology and improve overall efficiency, while reducing paperwork, saving time, and eliminating potential errors caused by manual systems.
The Advantech MICA-101 Mobile Clinical Assistant was chosen for use by nursing staff and technical clinicians. Thirty units were delivered to staff for use in the wards, replacing small screen PDAs that couldn't support application requirements. MICA-101 has given the nurses the mobility they were looking for, with direct access to patient records via a Wi-Fi connection. The mobility has streamlined workflow, and made record keeping more efficient and less error prone. The system with an intuitive XGA 10.4" LCD dual-input panel (via stylus or touchscreen), is light enough for staff to carry throughout the working day. Automatic patient and staff identification, as well as asset confirmation is made possible by the use of the onboard RFID and barcode reader. And documentation can be photo-supplemented "on-the-spot" with the MICA-101's webcam.
Advantech's MICA-101 is a fanless, low-power and reliable system powered by an Intel Atom processor. It is compact and lightweight with a rugged ergonomic design, and easily connects to Beijing Cancer Hospital's information systems (MICA-101 supports Wi-Fi, and Bluetooth) allowing staff to stay connected to critical information while on rounds. MICA-101 gives clinicians and nurses mobile computing technology to help them deliver the five "rights" of patient care: right patient, right time, right medication, right dosage, and right route. The staffs are very pleased with the result. A nurse is seen here entering data "on-the-go" with the MICA-101 Mobile Computing Assistant.
The Beijing Cancer Hospital has noted that quality of care has been greatly enhanced by streamlined workflow, more accurate data recording, and a reduction in medication errors. The increased mobility allows staff to perform their administrative duties in less time, which gives them more time to tend to patient needs. Other benefits of MICA-101 cited by the hospital are:
- An easy to use touchscreen interface
- Wi-Fi connectivity to the hospital's existing information systems
- A durable, portable and lightweight design
- Paper handling has been nearly eliminated
- Administrative overhead has been significantly reduced
Plans are in the works for the hospital to supplement the use of MICA-101 by adding the AMiS, Advantech's Mobile Intelligent CareStation, a medical computerized nursing cart.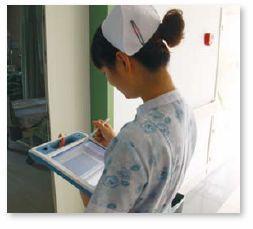 The Advantech MICA-101 Mobile Clinical Assistant was chosen for use by nursing staff and technical clinicians.
Finding more case study articles
DIGITIMES' editorial team was not involved in the creation or production of this content. Companies looking to contribute commercial news or press releases are welcome to contact us.