Versatile Motion Control Architectures for Machine Vision Markets
Press release
Thursday 11 October 2012
PC-based control architectures provide open and flexible operation with high integration capabilities, making them a great complement to PLC control architectures. Today's machine vision applications are a perfect fit for this type of collaboration, as they create a synergy of seamless eye and hand work.
After several decades of evolution, PC-based systems are beginning to leverage advanced semiconductor technology to provide higher calculation capabilities than PLCs. Meanwhile, PC-based motion control has become quite common in the market and help to improve the machinery throughput. With PC-based motion control, system integrators can execute more flexible trajectory planning with multithread technology compared to typical polling and sequence control from PLC system. These benefits are most apparent in the following applications:
- Packaging machinery, including semiconductor, flat panel displays, LEDs, PCBs, etc.
- Solar energy
- Wind power
- Converting, woodworking and printing
These applications feature two different two topologies: centralized and distributed. Normally, PCI/PCIe cards are the main selection to form a centralized architecture. However, as sophisticated design evolves, precise-timing trajectory control of multiple stepping and servo motors is needed and multiple axes of integration inside the embedded controller would be a lousy job for assembly engineers. From the viewpoint of overall budget control, design, implementation and maintenance, distributed motion control can save 20-30% of implementation costs.
But movement alone is not sufficient, accurate vision inspection is required to increase quality control. With PC-based vision, on-the-fly inspection can be achieved, increasing throughput and creating synergy between motion control, image capturing and inspection.
Typically, vision inspection applications can be broken down into the need for location, measurement, decoding, and defect identification. The interface selection includes analog and digital types. Digital is the next trend because of its standardization and increasing popularity. IEEE-1394.b, Gigabit Ethernet and CameraLink are becoming much more prevalent in this market.
Providing increased throughput, reduced production costs, fewer failures, lower operating expenses, the ability to integrate more machines into one system, and an increased return on investment are the driving forces for automation manufacturers today. The synergy of motion control and vision inspections offers great promise for the automation market. Motion control cableless technology and digital vision capturing are the future trends in machine automation.
The main focus in this transition is to lower costs by reducing wiring, simplifying the system formation, and utilizing standard PC-based interfaces.
Distributed motion control benefits these systems much more than typical centralized configurations by integrating Ethernet cabling. In this way, deployment is flexible enough to manage over 100 motion control axis, with easy after-service maintenance. Besides, real-time Ethernet fieldbus can realize fast-speed response times for multiple axis control.
Analog interface frame grabbers are prone to electro-mechanical interference while digital interfaces, such as IEEE-1394.b and Gigabit Ethernet are able to avoid this problem. Without needed to purchase additional frame grabbers, system integrators can benefit from a high-performance embedded controller with standard digital interfaces as their main vision inspection platform.
Printed Circuit Boards are used in virtually every electronic device today, from cellular phones and personal computers to industrial and medical machinery. One of the most integral steps in assembling Circuit Boards is the solder placement.
Advantech's centralized motion control system provides a high performance dual-core computer, UNO-3084, which can handle machine vision and control in one platform, and deal with 3D solder inspection capabilities with high inspection accuracy with high-speed motion control, besides, its IEEE 1394.b port can connect two individual cameras and two DVI-I displays. Advantech's PCI-1240U was applied for the high speed motion control, giving the added performance from motors. For the I/O card architecture, Advantech's PCI-1751 DI/O card is applied, helping the moving motor control different lighting for visual judgment, which helps make the inspection clear and reliable

TFT Defect Inspection in LCD Panel Assembly
With the driving force to manufacture larger-scale flat panels, system integrators need to design larger manufacturing machines. Take defect inspection for TFT/LCD panels for example, the machine design will consider multiple servo/stepping motors for conveyer purposes, and vision inspection by high-performance CPU with standard interfaces. Distributed motion control can solve system integrators' trouble in motor deployment in large space with Ethernet cabling.
Due to the complexity of the LCD manufacturing process, orientation and spacing are extremely critical. UNO-3082 features front accessible I/O and expansion arrangement makes wiring and maintenance very friendly. With Core 2 Duo performance, the inspection application runs smoothly even with local inspection loading. AMAX-2752 and AMAX-2242's industrial DIN-rail mount design makes it easy to distribute in the field.
With Advantech's machine automation solution, multiple cameras can be implemented by digital interface to form a vision inspection platform, and more motors can be distributed. PCI-1202 is a master control card which can be implemented in the PC to process all the motion instructions and data communications. Moreover, Advantech's AMONet has built-in ASIC for each module and allows real-time updates and control.
Facility Management in Food & Beverage Machine System
Providing quality food products with an extended shelf life while meeting growing concerns regarding the use of salt, sugar, fat, additives, and preservatives, is an increasingly difficult challenge for the food industry. Recent developments in equipment and motor control technology have moved the food industry to create a wide range of food making machine that have greater accuracy ingredient handling.
The food machine system is a dispatch sender for various recipes. The APAX-5520KW and APAX-5570XPE works as dual controller to do data and recipes exchange. The WebOP-2080V industrial operator panel comes bundled with PM Designer 2.0 HMI software to operate the HMI tasks and connect with APAX-5570XPE through VGA port. These conveyers are controlled by Advantech's AMONet master module APAX-5202P and motion slave AMAX-2243/YS2 to support higher precise motion control performance. The APAX-5046 is 24-ch DI/O module which connect to the sensors, emergency stop button, limited switched and push buttons together.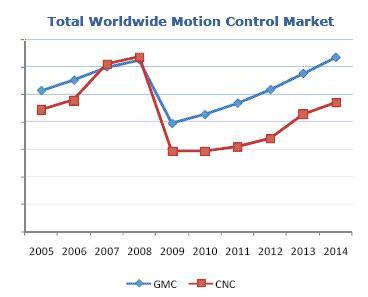 Reference: ARC insights, January 28, 2010. Motion Control Market Projection for 2010
Finding more case study articles
DIGITIMES' editorial team was not involved in the creation or production of this content. Companies looking to contribute commercial news or press releases are welcome to contact us.