Advantech: Supporting the Photovoltaics Industry with All-in-One Solutions
Press release
Thursday 27 September 2012
With the advancement of solar photovoltaic technologies, many related industries are booming as well. As a leader in industrial control, Advantech has become one of the major pioneers pushing for progress in the photovoltaics industry.
An Interview with Hsu Pei-hsiu, Product Manager at Advantech's Industrial Automation Group, China
"Today, when new renewable energy industries including solar and wind power are thriving, we provide the solar photovoltaics industry with products and services supporting their manufacturing equipment and remote maintenance, and also all-in-one services and total solutions", remarks Hsu Pei-hsiu, Product Manager at Advantech's Industrial Automation Group in China.
As for China's present development in the photovoltaics industry, Advantech provides support services for manufacturing equipment, and is able to offer bundled HMI/SCADA products with Ethernet telecommunications for each process involved in the creation of solar cell modules. These major steps include the growth of mono- or poly- crystal silicon ingots, slicing, cleaning, diffusion, etching, coating, screen printing, assembly and packaging, done by machines with an automation control structure composed of supervisory level of human-machine interfaces (HMI) and programmable logic controllers (PLC) communicating via industrial Ethernet switches. The solar module manufacturing machines, Ethernet devices and SCADA software packages are installed at the production lines in the facilities and exemplify operation reliability and maintenance convenience.
For the stand-alone machines, there is need for an HMI to monitor and control all systems accompanied by three to four PLCs. "In this way the equipment manufacturers can choose an embedded fanless Touch Panel PC (TPC) connected to Advantech's UNO-Series fanless embedded controllers via Advantech's EKI Ethernet switches. The UNO-Series configures, monitors and controls the PLC and stores production data, and the EKI switch serves as the communication bridge between TPC and UNO-Series, and the TPC is manipulated with remote monitoring and control software that oversees the status of each UNO-Series and each PLC. The HMI, network, control and data storage devices have their own function blocks separate to each other, thus the reliability and security of the whole apparatus is ensured," Hsu mentions.
Benefiting from the idea of vertical market orientation, each business group in Advantech has a profound understanding of the specific and specialized needs of their targeted industry. Hsu said, "Using a globalized technological platform, we are dedicated to providing our customers with products and services related to equipment maintenance in the photovoltaics industry, with successful application cases increasing every year."
Presently, in remote maintenance, Advantech offers DiagAnywhere software, which is an abbreviation of "Diagnose Anywhere". DiagAnywhere is Windows-based remote maintenance software for remotely monitoring and controlling Advantech TPC, UNO-Series and ADAM devices. It includes software tools for client users and server software for the targeted equipment, and supports operation system platforms including Windows XP, Window XP Embedded, Windows CE.NET 4.2 and Windows CE.NET5.0.
According to Hsu, this practically useful software can report to its user the tasks completed at the remote end, including remote monitoring and control, acquisition of remote screen images and record data, file uploading and downloading. It also supports Windows security certifications. "With this software, the equipment manufacturers can easily maintain the remote equipment based on TPC/UNO structure. They can complete all the needed operation steps through the Internet and thus reduce personnel cost for the maintenance of equipment," Hsu said.
"In the photovoltaics industry, we have heard more and more frequent calls from our customers for the establishment of integrated projects, so we continue to adjust our market strategies to accommodate this trend. At present, the photovoltaics industry is obviously moving toward more "project-oriented" demands, so Advantech continues to enrich its products for solar power plant control, network management, software service and power storage, endeavoring to make itself a trusted 'all-in-one service provider'", Hsu said.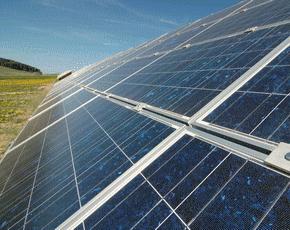 Advantech provides support services for manufacturing equipment, and is able to offer bundled HMI/SCADA products with Ethernet telecommunications
Finding more case study articles
DIGITIMES' editorial team was not involved in the creation or production of this content. Companies looking to contribute commercial news or press releases are welcome to contact us.