Connecting & Controlling Devices in the Food & Beverage Industry
Press release
Wednesday 19 September 2012
The food and beverage industry needs integrated solutions to monitor and control quality during the manufacturing process. Advantech offers total solutions for every step of production process with proven technology that creates competitive advantages; all our products can easily fit within existing infrastructures and provide a wide range of functions for advanced control. Here we will outline the top three features that make these products suitable for food and beverage production.
Batch Control
Batch processes are common in food and beverage manufacturing for developing and programming recipes, delivering separate formulas, designating different batch sizes at different stations, setting up programmable alarms, and temperature and humidity control through PID controllers. Advantech's APAX Controllers for example can operate as complete batch controllers, providing strong computational power for temperature, pressure and sequential functions in the field.
Process Control
Sterilization is often needed before packaging products. Sterilizing/Vacuum systems are proven ways to maintain sanitation, and industrial-grade products are required with heat-resistant capabilities and IP66 resistance against harsh environments. Advantech's IPPC-8151S is designed with IP66 for waterproof and dustproof certification which meets FDA Hygienic requirements, with anti-oxidation & anti-bacterial designs. Cleanliness is a very important part of any process within food and beverage. As a result, Advantech's HMI devices targeted to food and beverage provide the ability to be cleaned through simple push-button processes, and their fully sealed enclosures withstand vibration and moisture.
Packaging Control
Delivering a high degree of durability with a low total cost of ownership is a key factor for efficient packaging. Therefore, to provide accurate and on-time information, food and beverage targeted controllers need to be able to connect to standard Ethernet networks with high reliability to provide continuous transmissions. Through Advantech's proprietary redundant network protocol - X-Ring Pro, these devices can support high-speed recovery times (<10ms). The EKI-7758F provides a reliable network with wide temperature and capabilities to fulfill harsh environment needs.
Finally, many manufacturers in the food and beverage industry are looking to streamline their packing, labeling and palletizing processes, and Advantech's APAX provides dual controllers for these tasks, one controller focusing on I/O processing, and another to execute HMI/SCADA tasks, recipes, image processing, and more. Thus, the security of system can be ensured since I/O processing won't be affected by other tasks.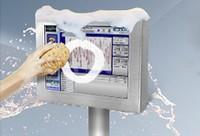 Advantech's IPPC-8151S is designed with IP66 for waterproof and dustproof certification which meets FDA Hygienic requirements
Finding more case study articles
DIGITIMES' editorial team was not involved in the creation or production of this content. Companies looking to contribute commercial news or press releases are welcome to contact us.