Technology Highlights: Tunnel Monitoring System
Press release
Wednesday 12 September 2012
In late 1990, Taiwan's Freeway Bureau began planning the construction of National Highway No. 3 to open up better transportation links and create more balanced regional development. The highway construction would have to go through steep terrain and mountains which made the project even more difficult, not to mention the difficulty of follow-up maintenance. Lantan Tunnel is well known among engineering associations and government agencies because it overcame numerous natural barriers and introduced many leading engineering methods.
An invisible guardian of tunnel safety
"Because the Tunnel is located in the mountain area, its maintenance is a demanding challenge. Thanks to Advantech's help, their stable system gave us a big hand," said Mr. Chen, Senior Engineer of Southern RegionEngineering Office, Taiwan Area National Freeway Bureau.
Advantech's SCA DA system provided easy management and control of the tunnel monitoring system which is comprised of front-end sensors (including a luminance meter, smoke and dust detector), APAX controller, and back-end PAC with WebAccess software to provide safe surveillance.
"Illumination is one of the most important aspects of driving safety. Due to tunnel's 1.2 km length, the lighting system not only had to provide basic lighting but also had to have adjustable illumination to help avoid accidents because brightness differences can cause motorist's eyes discomfort and problems," Mr. Chen said.
A user friendly graphical interface enabled engineers to easily locate the luminance settings, and the webbased design, hyperlinking, and remote communications, helped external engineering staff easily communicate with central management when out on site.
Building a traffic safety control system in the cloud
Three years ago, when the Freeway Bureau planned to replace the old system, a system with easy maintenance and a simple graphical user interface were the top priorities, Mr. Chen said. "Previous maintenance work used to waste a lot of time on account of using products from different suppliers, which meant problems became very difficult to resolve. We once called several vendors to come in, only to find out it was just a fuse problem! That's why, Advantech really impressed us—with Advantech things got much simpler."
Mr. Chen explained that contact was made with Advantech four years ago to help with an unknown fault. It was only a few thousand NT dollars of work but Advantech quickly sent maintenance staff to resolve it. In addition, with the benefit of a web-based monitoring system, Advantech could offer the integration of a transmission and SCADA system to enhance overall maintenance performance. Thereafter, Advantech began to participate in the improvement of the tunnel monitoring system as a strategic partner.
Currently, there are 43 of Advanetch's APAX controllers distributed in the Lantan Tunnel connected to backend PACs with WebAccess software to control the whole tunnel. All of those devices were provided by Advantech which significantly improved the system. Mr. Chen added, "Advantech's PACs, which integrate control, data processing, images, video, and internet communications, are ideal products for maintenance engineering to safely monitor the tunnel."
With increased maintenance and monitoring, the new system has attracted many engineering departments and agencies who visit the tunnel to take a look. And now, the Pingtung Zhongliao Tunnel team is also planning to replicate this project and use Advantech's products.
According to the contractor's manager, "Advantech's IPC products prov ided t he best stabi l it y a nd i nteg rat ion. Second ly, Adva ntech offered completetechnical training and support services, plus quality products at competitive prices, which is why Advantech has become the first choice of contractors."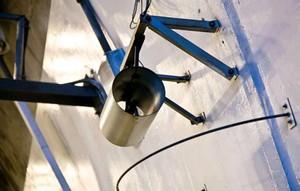 Advantech's SCA DA system provided easy management and control of the tunnel monitoring system which is comprised of front-end sensors
Finding more case study articles
DIGITIMES' editorial team was not involved in the creation or production of this content. Companies looking to contribute commercial news or press releases are welcome to contact us.