Clientron announces the new Tera2 PCoIP Zero Client L400
Press release
Wednesday 29 August 2012
Clientron Corp., a world-leading manufacturer of thin client and embedded systems, announces its new L400 PCoIP Zero Client, based on the next-generation Teradici Tera2 PCoIP zero client processor, that delivers high-performance and easy manageability for VMware View, PCoIP remote workstations and Teradici RDSH for Microsoft RDS environments.
Clientron's L400 Zero Client applies Teradici TERA2321 dual display PCoIP processor, which brings five times of the VDI pixel performance over the previous generation zero client processor. The L400 Zero Client supports high resolution, full frame rate 3D graphics and HD media, delivering superior graphics experience and high data security for users.
"Clientron is excited to work together with Teradici to develop fully integrated Tera2 PCoIP zero client solution. We believe that the new L400 zero client, which is optimized for VDI and remote workstations, will significantly enhance the user experience for customers." said Robert Chin, CEO & Chairman, Clientron corp.
"By combining Teradici's Tera2 zero client processor with Clientron's all new L400 Zero Client, Clientron is providing an exciting solution with an uncompromised user experience for VDI. We are thrilled to be working together to bring our latest PCoIP technology to Clientron's product line," said Dan Cordingley, president and CEO, Teradici Corporation.
Clientron PCoIP Zero Client L400 features highlight:
*PCoIP protocol and zero client technology with Teradici TERA2321PCoIP Processor
*The most secure zero client platform without fan, hard disk, OS, and driver
*Dual DVI with resolution up to1920x1200 pixels and imaging performance up to 150 Mpps
*Lower power consumption at under 14 Watts
*Support onboard 512 MB DDR3 memory, dual DVI displays, four USB2.0 ports
*Full power management with Wake-on-LAN support
*Optional optical fiber LAN port
*Broker connectivity to virtual desktops or remote workstation hosts using VMware View Manager
Clientron PCoIP Zero Client L400 will soon be available. Please contact Clientron sales or visit our website (http://www.clientron.com) for more information.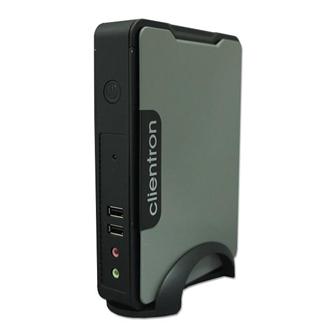 Clientron L Series Thin Client
DIGITIMES' editorial team was not involved in the creation or production of this content. Companies looking to contribute commercial news or press releases are welcome to contact us.