Developments and trends of optical sensor technology and mobile product applications
Sponsored content
Tuesday 10 July 2012
Within the field of optical sensors, vendors are dedicated to using CMOS process to develop all kinds of smart sensors for detecting ambient background lighting, LED colors, personnel distance and UV, which not only allows smartphones, tablets, smart TVs and displays to have more interactions with people, but also reduces energy consumption and carbon emissions.
Speaking at the recent DTF 2012 Ultra Mobile & Ecosystem Forum, Campella Microsystems president and CEO, Dr. Cheng-chung Shih, first introduced the company stating that it was established in August 2002 and that it has focused mostly on ambient light sensors (ALSs), infrared data transmission, optical encoders, PDICs, proximity sensors, color sensors and UV sensors.
At present, Campella's ambient light sensors and proximity sensors are used in communication products, mobile phones, smartphones, digital cameras, notebooks, desktop computers, LED backlight modules, automated office products, household appliances and automotive electronics. The company's products are mostly found in mid-range and high-end market segments and are being used by Dell, LG, Taiwan- and Korean-based smartphone vendors' supply chains and its lights sensors have also been certified for Windows 8.
Campella was originally involved with optical fiber and optical communication sensor components. In its early stages it developed integrated photo diode and I/V amplifiers (PDICs) that used analog IC designs combined with CMOS process and optoelectronic system technology. It create high-speed, high-sensitivity and high-bandwidth PDICs such as CM1212P2SA, CM1277P2ZM and CM1286P2SA (PD+TIA) for use in CD-ROMs, DVD-ROMS, CD-RWs and combo drives and later in IrDA (Infrared Data Association) transmissions, plastic optical fibers and ambient light sensors.
Optical encoders such as CM7020W1, 7150/7151/7152W1, CM7181/7182W1, CM7300AW1 and CW7300 276LPI can be used for motor speed detection and positioning control. IrDA components such as CM2811W1 have allowed PDAs, smartphones and notebooks to act as remote controls and low- to mid-speed data transmission applications, making it a popular and low-cost data transmission technology for early mobile devices.
Smart color adjustment for TV and better UV protection
Campella's color sensor chips such as the CM3320 are used in LCD TVs and monitors and the color sensor chips made using advanced CMOS process not only sense color temperature changes, but also automatically adjust to the best color temperatures available for a screen, allowing it to reach the most optimal white balance. This gives LCD TVs and monitors the best white balance and color performance no matter what the conditions may be. Take 22-68W as an example, the color sensors can help smart TVs save 67% on power consumption, which is why Campella's color sensor is used in Japan- and Korean-made LCD TVs.
Campella has also developed the CM3512 UV sensor for cell phones. Very often the outdoor light does not seem very bright, but the UV level may be already very high. Ordinary light sensors may not be able to determine the accurate UV levels. Campella uses an CMOS process to provide high-quality and low-cost UV monitor solutions that are able to accurately measure UV levels in terms of the UV Index, which is good for reminding customers, especially female ones, to take appropriate UV protection. These solutions have been adopted by several major smartphone vendors.
Ambient light sensor technology and smart adjustments for display panel backlighting
Shih said ALSs form the biggest segment of the company's light sensor product portfolio. ALSs can automatically adjust a display panel's backlighting brightness in accordance with changes in an environment's lighting and can maintain the most optimal lighting levels along with lower power consumption for LCD displays. Campella's existing CM3202, 3204, 3206, 3212, 3213, 3217, 3218, 3220 and the latest CM3232 ALS chips all use Filtron patented technology that provides linear output and temperature compensation to avoid outside ambient light interference. Shih added that ALSs are slowly becoming components that all cell phone makers are using, and that proximity sensors are also being used in cell phones. When the user is talking on the cell phone, the proximity sensor will turn off the cell phone screen and its touch capabilities, which saves power and extends battery life, added Shih. Long distance proximity sensors (LDPSs) on the other hand are used in LCD TVs, monitors, all-in-one (AIO) PCs, and can even detect personnel attendance as well as hand and body movements. Without any connections or contact, the LDPSs can automatically turn on and off devices, have dynamic control of speaker volume and keyboard backlighting. If a person leaves a device, it will automatically turn off by itself and will turn back on once that person is back near it. The speaker volume can be adjusted through an earpiece sensor via this technology as well. Campella also provides software programming, which greatly reduces clients' time for product development.
Smart optical sensors for tablets
Most tablet users, whether they are holding a tablet in a landscape or portrait position, will inevitably have their fingers touch the sides of the tablet or even cover the sensor. If the tablet's sensor is not advanced enough, it will assume that it is being covered with a case and will then turn off. Therefore, the smart Lid Cover Sensor (LCS) is the best solution.
Campella's LCSs use the company's patented technology which can detect the difference between the thin lid of a table that completely blocks off light, and the finger that still allows a small amount of light to pass through. With Campella's smart LCS, a device, such as the iPad, can be switched off quickly when the lid is closed, and will not be switched off inadvertently when touched by a finger. The CM36262 combines the functions of the ambient light sensor, proximity sensor and smart optical lid sensor using Campella's patented Dual Filtron technology to directly transmit digital signals to the digital signal processor through embedded 8-bit or 16-built digital converters. There is also a built-in low-pass filter to avoid external interference from affecting product performance.
It can read wavelengths of 450-650nm, simulate the light sensory levels in the human eye, and automatically adjust backlighting to make peoples' eyes feel comfortable as well as saving energy. The proximity sensor can accurately detect objects nearby, which are applied in cell phones for turning off the screen and touch functions during a phone call. In addition, smart LCSs used on tablets can differentiate finger touch and hand grips from the devices' lids, allowing smart automatic control of the power.
Optical sensors for smart LED lighting
Shih also noted that Campella has developed a DC/DC RGBA LED controller chip enabling direct lighting feedback in LED lighting fixtures and lighting equipment. It uses the highly-integrated, wafer-level Filtron technology. Through I2C smart control it is able to directly make adjustments and feedbacks directly based on the light source to create the best energy efficiency. Aside from possessing accurate color adjustment and lighting levels as well as having O-Trim for consistency, it is able to avoid overheating and aging.
Shih concluded that with its most advanced CMOS process technology, Campella is able to provide superb color reactions, 2000-6500K color temperature compensation, excellent linear output signals, and avoids light flickering. It is the best CMOS process solution ready for volume production. Shih added that the next industrial revolution will create a new era where sensors are found in all smart connected devices. Campella is on the forefront of the sensor field, and it will go beyond optoelectronics to create all kinds of sensors.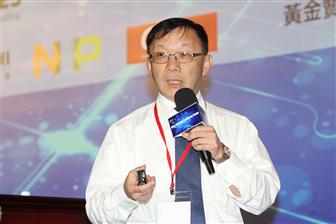 Campella Microsystems president and CEO, Dr. Cheng-chung Shih