The mobile computing revolution
Sponsored content
Wednesday 11 July 2012
Tegra 3 - developed together by Nvidia and ARM - is a brand new multi-core mobile processor with powerful 3D graphic functions for smartphones and tablet devices. Tegra 3 in conjunction with Microsoft's new Windows RT, which supports touch control, generates great synergy to make web browsing, video streaming, and game playing extremely easy. It also offers longer battery life. Tegra 3 is redefining mobile PC architecture, offering an alternative to x86.
Ongoing enhancement of device mobility to sustain IT industry growth
According to Rene Hass, Vice President and General Manager, Notebook Business Unit, Nvidia, ongoing enhancement of mobility for devices is critical to sustaining growth of the IT industry. According to a market survey conducted by Nvidia, the 2008 global shipment of 300 million notebooks exceeded the shipment of 200 million desktops for the first time ever; in 2009 smartphone shipments exceeded notebook shipments; the iPad launch in the second half of 2010 created a new tablet PC market and in 2011, tablet sales exceeded the netbook sales.
For desktops, shipments from 2007 to 2014 are expected to remain unchanged at about 200 million per year. Hass forecast that a new model that integrates tablet, notebook, and cell phone appearances into one will appear and become a trendsetter as the shipment of the new model would exceed the shipment of tablets. Haas also noted ARM processors have a 65% share of the overall market and their share in the tablet and smartphone markets is as high as 90%. Supported by Windows RT, ARM is expected to win 50% of the mobile PC market by 2015, when ARM would become as strong as the Android platform.
Haas pointed out several important numbers:
(1) 2.5 billion, which is the sum of populations in India and China. The sum is about 36% of the global population of seven billion, and China and India now have the strongest economic growth.
(2) 10%, which is the Internet penetration rate in India, where there is considerable room for growth.
(3) 6%, which refers to the fact that only 6% of the people in China subscribe to 3G mobile communications.
(4) 29%, which refers to the present combined market share of e-book readers and tablets, up from merely 2% three years ago.
(5) 3X, which means the number of cell phone users is three times that of fixed-line phone users now.
(6) 25 billion, which is the number of times that apps on Apple App Store have been downloaded over the past 15 quarters.
(7) 1.25 billion, which is number of PCs around the world running Windows.
Another explosive growth of tablets driven by Windows RT
What devices - be they smartphones or tablets - are suitable to replace PCs in the post-PC era? Should such devices run iOS or Android OS? The best solution, according to Haas, would be the tablets with the ARM architecture in conjunction with Windows RT (RunTime) supporting touch control.
According to Haas, Windows RT-based tablets have a beautiful design, a modern and clean interface, and are more intuitive. They would also enhance peak execution efficiency with an even faster, smoother streaming OS in order to stay connected anytime for real-time updates of apps from an unprecedented app ecosystem. Moreover, there would be a built-in independent software vendor (ISV) community that has developed for decades in order to provide the greatest opportunity of development from a single platform, while more than 100,000 apps would be announced and available for download.
Windows RT-based tablets equipped with the Tegra 3 multi-core processor also make web browsing, video streaming, and gaming playing extremely easy.
Tegra 3: the world's only four-plus-one architecture, quad-core mobile processor
Haas next introduced Tegra 3, the third-generation mobile processor announced by Nvidia. The max frequency of Quad-Core Tegra 3 is 1.4GHz, with 32KB L1 I-Cache, 32KB L1 D-Cache, 1MB L2 Cache, ARM Cortex A9 Core, and the 5th 1.5GHz battery-saver core forming the Super 4-PLUS-1 Quad Core manufactured by TSMC 40nm process. This Variable SMP architecture enables four performance cores to be used for max burst, when needed, with each core independently and automatically enabled and disabled based on workload. The single battery-saver core (or companion core) handles low-power tasks like active standby, music, and video, and is transparent to the OS and applications.
Tegra 3 has 12 texture pipelines built in as well as ULP GeForce GPU to enable simultaneous dual screen output; HDMI 1.4a output; high definition up to 2048 x 1536 for liquid crystal screens and 1920 x1200 for CRT screens; 1920x1080 full HD; video decoding and playing of H.264 (HP @ 40Mbps), VC-1 AP, MPEG2, MPEG-4, DivX 4/5, XviD HT, H.263, Theora, VP8, WMV, Sorenson Spark, Real Video, and VP6; video encoding of H.264, MPEG4, H.263, and VP8 for video teleconferences; audio decoding of AAC-LC, AAC+, eAAC+, MP3, MP3 VBR, WAV/PCM, AMR-NB, AMR-WB, BSAC, MPEG-2 Audio, Vorbis, WMA 9, WMA Lossless, WMA Pro, G.729a, G.711, QCELP, EVRC, etc.
Manufactured by TSMC 40nm process, Tegra 3 runs at 1.4GHz and conforms to 3D standards such as OpenES 2.0, Open VG 1.1, and EGL 1.4. Moreover, Tegra 3 has a built-in primary camera/GPU of 32 megapixels as well as a secondary camera/GPU of five megapixels, capable of auto exposure, auto focus, auto white balance, lens shading 9th order, de-mosaic, sharpening, and programmable de-noise to meet the videophone requirements associated with 3.5G/4G smart phones or mobile tablets.
Tegra 3 has a DirectTouch architecture built in for the processor to share some touch control processing tasks in order to make touch control more responsive and decrease power consumption. Tegra 3 offers 3D Stereo Gaming, a function for real-time conversion of OpenGL applications and games into Stereo 3D. Nvidia PRISM (Pixel Rendering Intensity and Saturation Management) Display Technology reduces a mobile device's backlight power while simultaneously enhancing the pixel color to deliver the same visual quality with substantially extended battery life.
According to Hass, Tegra 3 helps super phones, low-price tablets, smartphones, and Windows RT-based tablets achieve the greatest multitask streaming performance, while running packaged software, web browsing, streaming video, and 3D game playing are as enjoyable as the experience provided by the existing x86 architecture for mobile PCs.
Redefinition of mobile PC architecture
Hass lastly pointed out that mobile PC architecture is being redefined, which is a positive change because the four-plus-one core Tegra 3 can replace x86 processors for mobile PCs. Mobile PC communications used to rely on Wi-Fi, but now cellular mobile communications systems (3G/3.5GWCDMA/4G LTE) are available in addition to Wi-Fi. Touch control input is also available in addition to keyboard and mouse input.
The power supply of an x86 architecture mobile PC can only last up to seven hours, but with Tegra 3 the power supply of tablets and super phones can easily last for more than 10 hours. An x86 architecture mobile PC requires fan ventilation, which is noisy and power consuming, while Tegra 3 completely does without fan ventilation. The x86 architecture used to be perceived as indispensable to mobile PC design, but now the ARM-based Tegra 3 SoC in conjunction with Windows RT is probably an alternative and smart solution for mobile PCs.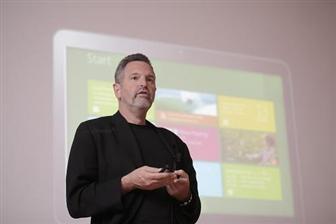 Rene Hass, Vice President and General Manager, Notebook Business Unit, Nvidia
DIGITIMES' editorial team was not involved in the creation or production of this content. Companies looking to contribute commercial news or press releases are welcome to contact us.