Ultrabook development trends
Sponsored content
Since 2011 Intel has been aggressively promoting ultrabooks with a new processor platform for rapid boot to log-on , in conjunction with smart connection, smart response, personal identity identification, and anti-theft technology. Ultrabook is also supported by a venture capital fund that invests in relevant component and part industries. The investment attempts to drive the whole laptop ecosystem and make devices even slimmer, lighter, and mobile.
Ken Lau. managing director of advanced technical sales and service, Intel APAC, noted that there are more users, a wider variety of devices and network connections in today's cloud computing era to create higher data traffic as well as even more diverse online applications and experience options, during the recent DTF 2012 Ultra Mobile & Ecosystem Forum. For example, desktops, laptops, netbooks, personal devices, smart phones, smart TVs, in-vehicle infotainment (IVI), and embedded devices are able to easily access cloud services via Wi-Fi, 3G, Ethernet, and so forth.
New experiences created by more cloud-based devices and applications
As for the industry vision for cloud applications, by 2015 a client aware cloud will access private clouds and public clouds via open networks to securely access information in private clouds. The automation associated with cloud computing will reduce administration costs; as a result, IT departments of various organizations will be able to focus on developing new applications and service innovations.
At present, data traffic resulting from cloud access is very high. Two billion Internet users around the world send an average of 247 billion emails daily; approx. two billion videos on YouTube are viewed daily; and 2.5 billion photos are uploaded to Facebook or updated there daily. This will drive new behavior and new expectations among end users, whose expectations for digital devices are changing, too. People are willing to pay for the user experience that they need and want.
Creation of relevance of ultrabook by renovating existing product functions and user experience
Accordingly, Intel has adjusted its user experience-related product planning. In the past, bottom-up planning started from CPUs and hardware to aggressively promote higher processing speed and add more computing power in order to strengthen the performance of middle ware, i.e., the OS and Apps. Such efforts created the user experience in the past. However, when CPU power consumption became too strong while clock speed enhancement reached a limit, Intel adopted top-down planning to first identify and create the best user experience targeting the largest user group, based on which middleware would be developed and then only one CPU or hardware product or a few of them would be created.
According to Lau, Intel conducted a user survey when evaluating whether touch control should be added to ultrabooks. Some respondents like touch-control notebooks because touch control is fun, modern, and immediately responsive. Some are already used to a track pad on conventional notebooks but think touch screens are good, too, because they enable rapid real-time interaction. Some note that touch control helps decrease carpal tunnel syndrome. Some love touch control but are used to keyboard input for typing.
Analyzing the opinions provided by users, Intel has categorized the market of consumer notebooks into five: Gaming, content creation, entertainment, on the go, and basic. Ultrabook first targets the on the go and entertainment categories and will then expand into the content creation and gaming categories.
At Computex in June 2011, Intel introduced the concept of the ultrabook. In August, Intel conducted an Ultrabook symposium on a non-disclosure agreement basis for relevant partners; 120 companies and 1,000 engineers were present. A US$300 million Ultrabook fund established by Intel Capital has been actively investing in various new, strengthened user experiences, even lighter and slimmer components and parts, and innovative platform technologies to help enable an Ultrabook industry ecosystem.
Intel specs for the ultrabook
Intel has started with the chassis, display panels, storage, optical drivers, and batteries, seeking highly sturdy chassis while reducing production costs, adopting NAND flash and thin display panels with incorporated touch control, limiting hard disc thickness to 5 mm, and promoting battery interface standardization while using lithium polymer batteries.
A conventional notebook is 1.26-inches thick from cover to bottom, but Intel limits the total thickness of a 13.3-inch ultrabook to 17.8mm, while the total thickness of any ultrabook with a screen larger than 14-inches is limited to 21mm. To do this, the thickness of a display panel needs to be decreased from 5mm to 3mm while the battery diameter needs to be decreased from 18mm to 16mm or rectangular batteries of 80mm x 60mm shall be used. Moreover, socket connections are all canceled inside th ultrabook, where all IC chips are directly soldered on board using surface mount technology (SMT).
According to Lau, the ultrabook has been Intel's biggest platform change since the company launched Centrino in 2003, as the CPU, chipset, chassis, display panel, and storage have all been changed. According to Intel's three-year plan, since the launch of Sandy Bridge (2nd generation Core) Ultrabook in June 2011, Ivy Bridge (3rd generation Core) Ultrabook will enter the mainstream market in 2012, and the CPU codenamed Haswell that is expected to be launched in 2013 would transform the existing notebook market completely.
Citing a Digitimes from April 2012 and many others, Lau noted that increasing ultrabook shipments would help boost the gross margin at notebook OEMs. According to Lau, ZDNet considers 2012 the first year of the era of the ultrabook. Wired pointed out that 2012 would witness the fruition of the ultrabook while eWeek mentioned that ultrabook-based tablets would be shown at CES 2012 at the latest. At present, ultrabook models including the Acer Aspire S3, Asus ZenBook UX21/UX31, Dell XPS 13, Hewlitt Packard (HP) Folio 13 and Envy Spectre, Lenovo IdealPad U300S/U300e, LG Super Ultrabook Z330/Z430, Samsung Series 5 Ultra13 and 14, as well as Toshiba Portege Z830/Z835 and Satellite U840. In 2012, as many as 75 ultrabook models based on the Ivy Bridge (3rd generation Core) are being designed.
Demo of ultrabook notebooks as well as applications
Ultrabook features Intel Rapid Start Technology, Intel Identity Protection Technology, and Intel Anti-Theft Technology. At the ultrabook notebook demo that ensued, an ultrabook that had been switched off took less than seven seconds to resume to log on mode, whereas the ultrabook models of other OEMs/ODMs are even faster.
The next demo of Intel Identity Protection Technology (iPT) showed that iPT would activate a one-time password (OTP) on online transaction platforms such as PayPal in addition to the required account and password input. iPT randomly produces a six-digit password at an interval of 30 seconds as the secondary defense for online transactions, as inputting the newest OTP is required for transactions.
In the US, a notebook is lost every one minute, and 20% of such incidents happen at airports, coffee shops, or on mass transport systems. During the Anti-Theft Technology demo that followed. Intel's Anti-Theft Service website was introduced. Registration with the website will lock lost or stolen laptops by using another computer or cell phone to access the website. Locked notebooks -- upon logging on -- will show a message of being locked as well as the contact information of their owners. Locked ultrabook laptops are completely inoperative except for displaying the message, and their hard discs cannot be duplicated even if they are removed. This safeguards ultrabook users' privacy.
Lau concluded that the R&D at Intel now focuses on cloud-based user-end devices in order to provide unique user experiences as Intel is committed to ongoing support for an ultrabook and a successful ultrabook industry.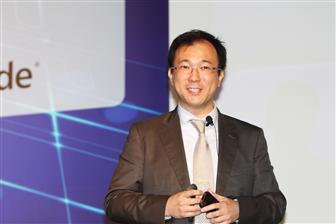 Intel APAC, managing director of advanced technical sales and service, Ken Lau