WiGig Taipei Summit Grand Debut - reveals the blueprint and market opportunities
Press release
Thursday 14 June 2012
In response to the steadily growing market for high-speed wireless transmission demand, the WiGig Alliance standard, based on the 60GHz frequency band technology, has been rapidly progressing and is actively being called on by manufacturers to work together to build products to enhance consumer user experience beyond other wireless technologies provide today.
The WiGig Alliance, Taiwan's Industrial Technology Research Institute (ITRI) and the Taipei Computer Association (TCA) co-organized the first ever WiGig executive Summit during the Computex 2012. Heavyweight executives from Broadcom, Intel, Qualcomm-Atheros, Panasonic and Wilocity were invited to share WiGig strategies and trends including a stimulating panel discussion on business and market opportunities, challenges, usage models and other relevant topics.
It is estimated that by 2016, WiGig will account for more than 40% of multi-band frequency chipset shipments
WiGig Alliance Chairman, Ali Sadri, conveyed the latest progress of the standard in his keynote address. He pointed out that in the early stage of WiGig development, the market was skeptical about creating a viable and commercialized technology based on the WiGig 60 GHz technology. However, the technology is now well recognized by the industry and its ecosystem is growing rapidly such that we will soon see WiGig based products in the market alongside of the other mainstream wireless technologies.
In a quote from an ABI Research report, Ali Sadri said the WiGig's 60GHz chipset is expected to ramp in 2013. Moreover, In just few years and by 2016, it could account for more than 40% of the multi-band frequency chipset shipments alongside of the legacy 2.4 Ghz and 5 GHz WiFi chipsets.
WiGig chipset modules are 10 times faster than Wi-Fi and certification for the MAC-PHY is expected in the second half of 2013
Compared to past failed UWB (Ultra Wideband) and WirelessHD standards, Ali Sadri pointed out that the WiGig Alliance has learned from the experiences of other standards and technologies limitations. UWB for example, has global spectrum regulation problems and was intended to compete with the legacy 802.11n technology; that made UWB unlikely to succeed. WirelessHD however was focused on HDMI cable replacement and video streaming applications. Neither of these technologies were backward compatible with legacy Wi-Fi, which does not create transparent wireless connectivity with current technology and limits the application to a single use.
Ali Sadri stressed while backward compatibility with Wi-Fi is important, WiGig has different usage models beyond what the current WiFi technology provides. Some of those applications are wired replacement technologies such as HDMI and Display port, USB 3.0, SDIO and PCIe all applicable to the docking stations usage model. All these usages makes WiGig a natural extension to the Wi-Fi technology.
Panasonic Tokyo R & D Center Director, Makoto Miwa, said that consumers create and use data in increasing amounts and there is no doubt about the benefits of WiGig for the fast transmission of large files. Panasonic is developing a 10mm x 10mm x 1mm delicate WiGig chipset module, which can provide speeds up to 10 times faster than Wi-Fi. It is estimated that the power consumption of this device is around 600mW and expected to launch by the second quarter of next year. Broadcom Vice President, Craig Ochikubo, and Intel GM of Wireless Connectivity Solutions, Mobile and Communications Group, Yaniv Garty, also agreed that the high WiGig transmission rate can meet consumers growing demand for large file transfers.
In addition, Wilocity CEO, Tal Tamir, said his company has been established for five years, and began sampling WiGig chipsets to some customers at the beginning of this year. In the meanwhile, Wilocity is also cooperating with Qualcomm-Atheros and AzureWave on multi-band frequency solutions for wireless docking applications.
Yaniv Garty also pointed out that, based on Intel research studies; the users need more than just high throughput connectivity. They are concern about better user experience. He believed that WiGig is focusing on these application areas to provide better user experience at home and office.
The WiGig applications and challenges
Qualcomm Atheros, Senior Vice President and General Manager, Consumer Business Unit, Amir Faintuch pointed out that currently the market is moving to 5GHz 802.11ac. In this case of 60GHz, while WiGig is initially targeting PC applications, in the future it must be able to overcome power consumption and size for entry into the mobile market. That is going to be the volume market for WiGig technology.
Craig Ochikubo also believes that size, cost, and power consumption are the major challenges. Yaniv Garty added that many emerging technologies failed in the past due to these factors.
Tal Tamir has great confidence about WiGig's future; the speed of 5Gbps is just the beginning. He believed that WiGig's technology in the future is likely to reach 20Gbps or more. He further said that WiGig's learning curve will be in large steps, not only increasing 20%, but also performance efficiency could improve by two to five times within the next few years.
Each panelist had different views of the first wave of usage application. Amir Faintuch thinks industry must be able to introduce cost-effective solutions; wireless docking station solutions for P2P and enterprises are good usage models.
Craig Ochikubo shared his view that WiGig as a natural extension of Wi-Fi and there offers different usage models due to its high transmission rates. The industry should be able to provide the best design for various applications. A better wireless feature for video streaming is missing from today's market, which is where WiGig can fill in the gap.
Yaniv Garty is optimistic about the application of the synchronization within the corporate environment, but he also stressed that no single wireless technology can be applied to all applications; thus businesses need to integrate different elements to develop a complete application solution. That is where the believed WiGig could play a major role at home and office usage scenarios.
Makoto Miwa of Panasonic stated that consumers and the market will influence the demand. It then becomes the industry's mission to provide those solutions. He gave the example of the 2011 tsunami and earthquake in Japan, which created a huge demand for wireless communication. WiGig is the technology that can offload 3G and 4G data. It can also be the backhaul for small cell base stations.
Overall, WiGig is at its inflection point of market deployment; thus application possibilities are endless. Ali Sadri said this shows that WiGig can offer solutions for multiple business opportunities. He also stressed that WiGig mission is to provide a comprehensive certification programs to enable total seamless product interoperability.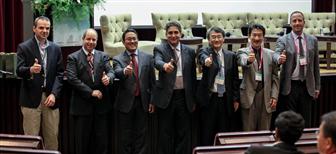 Photo: Wilocity CEO, Tal Tamir, Qualcomm-Atheros Senior Vice President and General Manager, Consumer Business Unit, Amir Faintuch, Broadcom VP Craig Ochikubo, WiGig Alliance Chairman, Ali Sadri, Cheng Sheng-Ching, Executive Secretary of the Committee of Communications Industry Development of Taiwan (CoCID), Panasonic Tokyo R & D Center Director, Makoto Miwa, and Intel GM of Wireless Connectivity Solutions, Mobile and Communications Group, Yaniv Garty (from left to right.)
DIGITIMES' editorial team was not involved in the creation or production of this content. Companies looking to contribute commercial news or press releases are welcome to contact us.