ISSI taps into analog IC market; provides one-stop service for automotive electronics
Press release
Thursday 14 June 2012
Demand for analog ICs in the consumer market has been increasing as the world economy is recovering. In 2012, the analog IC market is estimated to have sales worth US$43.8 billion and according to market research firm Databeans that number will increase to US$60 billion by 2016. With light source, temperature, speed, and sound control technologies maturing, and with extensive adoption by the automotive electronics industry, analog ICs have seen market growth of 50% almost every year.
Acquisition of Si-En adds audio amplifiers and LED driver ICs to product portfolio
Developing analog IC technology is rather difficult. This coupled with electronic products having various requirements means that there still needs to be a lot of adjustments and design iterations. The entry barrier is high, and services are mainly provided by experienced IC providers. But, as the development period for electronic products is shrinking and production tends to be in small volumes of multiple devices and diversified specifications, not too many IC design firms can provide flexible and fast customized services for each customer's specific needs.
Therefore, Integrated Silicon Solution, Inc. (ISSI), which has been developing SRAM and DRAM products for the automotive electronics industry for years and has successfully serviced markets in Europe, the US, China, South East Asia and Japan, acquired analog IC designer Si-En Technology in 2011. With Si-En's audio amplifier and LED driver product lines, ISSI will extend support of its new analog product area to the automotive market.
Using existing resources to expand competitiveness in automotive market
ISSI's Analog Product marketing director, KC Chun, said, "There are many electronic parts used during automobile manufacturing, so cutting back on the amount of suppliers will help streamline the procurement process for parts and components, and enable more comprehensive technological support from suppliers." Different from the information industry, the automotive industry gives top priority to safety and reliability, and seldom replaces suppliers of electronic components for car models that are still on the market. Therefore automakers' relationship with the supply chain is relatively long-term and closed.
ISSI's IC products and business operations have already been certified by international first-tier manufacturers, and the company is a member of the Automotive Electronics Council (AEC) and Genivi Alliance. ISSI has more than 10 years of experience in the automotive market's application specifications and strict certifying processes. This would help ISSI to enter the analog area faster.
Innovative packaging for audio products with 3D sound field effects
In terms of audio amplifiers, ISSI is initially promoting application services for portable products, including tablets, notebooks, smartphones, wireless stereos, and wireless earphones. For future products, ISSI also plans to have a more diverse product line for consumer electronics, automotive, industrial and medical products, with applications for digital TVs, on-board navigation and infotainment systems, and so forth.
What's worth noting is that almost all packages from wafer chip scale packaging (WCSP) currently available on the market are bare dies, which can be potentially damaged easily during testing. This increases procurement costs. Therefore, ISSI's new UTQFN (ultra thin quad flat no lead) series packages adopt a packaging technology that offers better protection to reduce the chance of damage during testing. It is particularly remarkable that the pin design of the PCB does not have to be changed when switching to a more advanced process for a smaller chip size to achieve lower production costs for customers.
"We believe we can provide cost-effective solutions and good support to customers." explained Chun. "ISSI has added 3D sound field technology to its mid-range and high-end audio amplifiers, which makes the sound more crisp and clear, and meets increasing requirements set by the market." The UTQFN series has low-noise capabilities, boosting Bluetooth earphone and hi-fi system makers' competitiveness without adding costs. In addition, ISSI's technical support will also help shorten both the design and production time. ISSI's solutions are the best possible choices available on the market.
Comprehensive support for situational lighting, backlighting and general lighting
ISSI LED driver IC products are aimed at three main areas of use in the market - FxLEDTM , backlighting and general lighting. Not only does the company provide integrated solutions combining light guide plates and LED chips to decrease LED driver ICs' energy consumption, it also has simple-to-use light dimmers and I2C-based interfaces. Program designers will only need to take a few simple steps to allow LED lights to adjust the flashing and dimming frequency in line with the changes of the sound effects.
Chun further pointed out, "In the past software engineers had to do real-time detection to change the flicker frequency of LED fixtures, which wasted bandwidth and added MCU code development. We now incorporate this function into the controller to more accurately time the flashing and decrease the work load of the MCU, so the system can run more efficiently." Moreover, ISSI's dimmers also have three dimmer settings to meet various market needs.
In 2012, incandescent lighting fixtures will either slowly or completely be replaced by throughout the US, Japan, China, and Europe. LED lighting is expected to be entering into a new era and that it is being sought out to meet specifications and requirements set by nations all over the world. To this end, ISSI is working diligently to make better products in cooperation with partners in the industry that meet the future product requirements.
Worldwide automotive business is the long-term goal for ISSI
ISSI has very strong business with memory product line (SRAM/SDRAM/DDR/DDR2) in the worldwide automotive market. With the experience of long-term support, quality and reliability monitor capability; ISSI will duplicate the success on analog products with those tier-1 automotive customers in the future.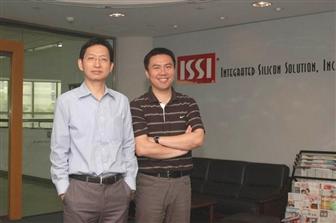 ISSI analog product line marketing director, KC Chun (left), and DRAM marketing manager, Sherman Hsu (right).
DIGITIMES' editorial team was not involved in the creation or production of this content. Companies looking to contribute commercial news or press releases are welcome to contact us.