Revolutionary solar tracking system to expand solar penetration: The aspiration to become the Apple in solar industry
Sponsored content
Monday 11 June 2012
The following is an excerpt of an interview with Summer Luo, Chairman of BIG SUN Energy group and TOPPER SUN Energy Technology.
In 2010-2011, solar firms around the world adopted massive capacity expansions which caused sales of related equipment to increase significantly. Oversupply problem occurred. Coupled with price competition from China-based solar firms, many Europe- and US-based solar firms declared bankruptcies because of ineffectiveness in cost-downs. Commenting on such market conditions, Summer Luo, Chairman of BIG SUN Energy group, holds a positive view: "This is the beginning of solar power replacing other energy sources. Commercialization of solar power can only be achieved when it is cheap enough."
It is generally believed that once the price of solar modules reach US$1/W, the penetration of solar power will accelerate, and obviously that time has come, judging from the fact that global solar PV system adoption in first-quarter 2012 reached 10GW, a 174% increase on year. Luo added, "I predict the total global solar PV systems in operation will exceed 30GW this year, which is a significant amount of demand. Nevertheless, the supply chain will continue to experience oversupply. Therefore, except for the furthest downstream system makers and distributors, as well as customers, who will benefit, others - from module makers to others further up the supply chain - will not be able to obtain sufficient profits."
"Vertical integration" business model is best among peers
Under such market conditions, BIG SUN continues to accumulate profits that outperforms peers (highest first-quarter 2012 profits among Taiwan-based peers), and the key lies in the "vertical integration" business model of the firm, beginning from the production of monocrystalline solar cells to its subsidiary TOPPER SUN Energy Technology's production of high-efficiency solar modules, rooftop and ground-mount solar PV systems, and designs and sales of solar tracking systems. The firm has been successful in constructing solar power plants such as one at a large-size traditional poultry farm in Yiju Township in Chiayi County, Taiwan. The firm remodeled the poultry farm by adding 500kWp of solar PV systems. The power generated is more than sufficient for the farm's own use, and extra power is sold to Taiwan Power Company. Annual rate of return by selling power is 12-15%.
In addition to "vertical integration," Big Sun has core competence of strong R&D capabilities. The R&D team led by Luo has accumulated close to 100 patents in six years. In particular, Luo, with astonishing strength in R&D, personally owns more than 50 patents. One of the best proofs of the firm's strong R&D is the recently launched "Intelligent Solar Tracking System." Luo indicated that "compared to other solar tracking systems by peers, our product can increase efficiency by 30-40%."
Solar tracking systems have not been widely used by current solar power plants around the world because the systems are too expensive. Most solar tracking systems adopt a structure using ball screws and oil pressure poles. These parts are costly and hard to maintain, hence limiting the popularity of solar tracking systems. However, TOPPER SUN's iPV solar tracking system adopts a different structure.
The solar tracking system's simple design breaks through the cost bottleneck
The core technology allows TOPPER SUN's tracking system to adopt two steel cables to replace such parts as oil pressure poles, air compressor poles, and ball screws. The system can track the sun from all angles with accuracy comparable to solar tracking systems that adopt expensive parts. Due to the adoption of steel cables, Topper Sun's iPV solar tracking system is much cheaper compared to others. In addition, the simple design reduces maintenance difficulties significantly. Topper Sun's tracking system also has great durability against wind. For solar power plants, this product is a solution that offers low cost and high accuracy benefits.
Luo emphasized, "This product uses an innovative structure to debottleneck problems with costs and maintenance and can effectively increase procurement willingness of solar tracking systems for solar power plants. The system's ability to increase power generating efficiency significantly makes it a revolutionary product."
As solar power generation enters the era of low feed-in-tariffs (FITs), the importance of solar tracking systems has become more apparent. This is because in the past numerous governments provided high FITs for power generated by solar PV systems, allowing power plants to profit even though power generation was low. Now, prices have been falling, prompting power plants to do their best to capture maximum sunlight. Therefore the value of solar tracking systems is now treasured because of their capability of automatically following the sun in all angles. Therefore, the launch of the new solar tracking system by TOPPER SUN can be described as "the right product at the right time."
Quality recognition and success in international markets
For other solar firms, this year may still be an unstable year. However, for BIG SUN, in addition to the introduction of the new solar tracking system, Germany's UmweltBank (Environmental Bank) has agreed to give substantial loans to customers who adopt TOPPER SUN's own brand solar modules. This major breakthrough is adding advantage to the firm's overseas deployment.
The agreement aforementioned gives 90% loan for installations that have solar modules less than 25kWp without going through the screening process. For installation between 25-50kWp, the bank will contact TOPPER SUN's Germany office by phone to make sure TOPPER SUN's products are used. After the confirmation, the bank will provide a loan of 90% of total costs. For installations above 50kWp, the bank will conduct credit checks. Luo emphasized that Germany is the most important solar product market in the world and the substantial loans provided by UmweltBank are like a guarantee of the quality of TOPPER SUN's own-brand solar modules.
In fact, not only the quality of the solar modules has been recognized, the quality of monocrystalline high efficiency solar cells from BIG SUN has also won acclaim. The best proof is that the product has successfully entered the solar market in Japan. Luo indicated, "During the first financial crisis, our status as a firm providing the best monocrystalline conversion efficiency in Taiwan gained preferences by the Japan solar market. Japan continues to be an important market for us." Unlike other Taiwan-based solar firms that purchase patented technologies from large-size firms, BIG SUN has been developing its own R&D strength since the founding of the firm. This ensures BIG SUN can continue developing products from a firm foundation, avoid market turbulences, and move strenuously towards the goal of cleaner energy sources.
Armed with in-depth understanding of "The Art of War" in the face of harsh challenges
The bright future for the human race ties closely with clean energy, a belief that enthused Luo to enter the solar industry. Luo's determination has never changed, and he has steered the company through storms time and time again by invoking the success strategies he has learned from in-depth study of "The Art of War" by Sun Tzu, that is the five constant factors: the Moral Law, Heaven, Earth, The Commander, Method and discipline. Furthermore, in addition to the "vertical integration" business strategy and superior R&D strengths, BIG SUN embraces the five values ascribed to the Commander: wisdom, sincerity, benevolence, courage and strictness. These are the hidden factors that have allowed the company to remain solid when others in the industry struggle.
Observing the future of the solar industry, Luo pointed out, "The elimination has yet to be over and will likely last till the second quarter of 2013."In this worsening market condition, BIG SUN has been bravely investing in R&D and introducing innovative technologies. The firm obviously is equipped with the crucial qualities to survive and win in the industry.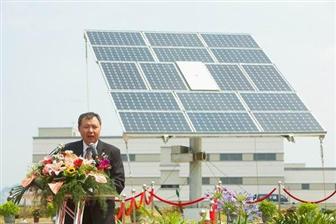 Summer Luo, Chairman of BIG SUN Energy group and TOPPER SUN Energy Technology
DIGITIMES' editorial team was not involved in the creation or production of this content. Companies looking to contribute commercial news or press releases are welcome to contact us.