Computex 2012: AMD reveals E-series APUs to help extend notebook battery life
Press release, June 6; Joseph Tsai, DIGITIMES
AMD has announced the launch of its latest AMD E-series accelerated processing unit (APU) platform. Designed for essential notebook and desktop personal computers which meet basic performance needs at accessible price points, the 2012 AMD E-series APU enables long battery life and a best-in-class entertainment and media experience, while striking a balance between energy efficiency and unique innovations for brilliant high definition (HD) entertainment.
Formerly codenamed Brazos 2.0, the 2012 AMD E-series APU is the feature-rich update to the most successful AMD notebook processor platform.
The platform features improved mobility with up to 36% longer battery life compared to the competition. Systems based on the 2012 AMD E-series APU can deliver up to 11 hours of resting battery life and up to a 90 minute competitive advantage in Web browsing and online flash gaming.
The platform also provides enhanced video experience with technology to help remove shakes and jitters from online or other video files through AMD Steady Video technology, which has plug-in support for all major Web browsers along with Windows Media Player and the open source VLC player.
The 2012 AMD E-series APU platform is the only essential notebook platform that offers built-in AMD Radeon HD 7000 series graphics with DirectX 11 and DirectCompute for a more feature-rich experience on the latest games;
Thanks to the compute capabilities in AMD Radeon HD graphics, major Web browsers such as Internet Explorer 9, Mozilla Firefox and Google Chrome offer an accelerated Web experience on the new AMD E-series APUs. AMD has collaborated with Microsoft to optimize the new AMD E-series APUs for key features in Microsoft Windows 8 to help improve the overall experience. Optimizations for HTML5 and full support for the new Metro user interface will help accelerate new Metro-based apps developed for Microsoft's newest operating system.
AMD E-series ultrathin notebook APUs

APU model

Radeon brand

TDP

CPU cores

CPU clock

Radeon Cores

GPU clock
(Max/Base)

L2 Cache

Max DDR3

E2-1800

HD 7340

18W

2

1.7GHz

80

680MHz/
523MHz

1MB

DDR3-1333
DDR3L-1333
DDR3U-1066

E1-1200

HD 7310

18W

2

1.4GHz

80

500MHz

1MB

DDR3-1333
DDR3L-1333
DDR3U-1066
Source: Company, compiled by Digitimes June 2012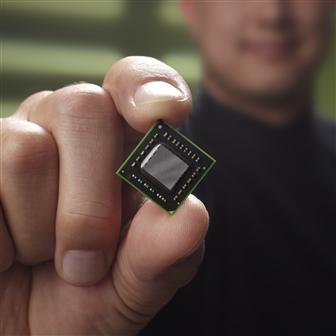 Computex 2012: AMD E-series APU
Photo: Company