FabiaTech unveils new DIN-rail CAN bus embedded small system based on Intel Atom E6xx Tunnel Creek Platform
Press release
Thursday 7 June 2012
Target at low-power, high-performance, DIN-rail applications. FabiaTech has revealed their latest new product FX5325 small system. It supports MPEG2, MPEG4 and H.264 hardware decoding. In 3D mark'06 relative score, Atom E6xx shows 50% higher performance than Atom Z5xx. It could be applied to Highway surveillance and intelligent transportation systems. This rugged system can long time work in the harsh environment in temperatures ranging from -20 degrees C to 60 degrees C.
The FX5325 fanless computer provides 3 gigabits Ethernet ports, 1VGA port, 4USB, 1 CAN bus and 1 COM port interface. It can also expend 3 more RS485 ports in which customers can use in 3 different direction controller applications. The multiple storage interface are available, includes SD card, 2.5-inch HDD and compact flash card.
Meanwhile, FabiaTech also offers Q-seven platform FB2622 which integrating an Intel Atom E6x0 processor. The compact module offers high graphics performance and a CAN bus according to the recently released Qseven specification version 1.20 and the CAN bus driver for Windows is available. Beside commercial types, the innovative module featuring a 70 x 70mm form factor. Base on this board, we can build systems or other form factor board according to customers requiring within 3 months. It offered 3 alternative modules based on E620 600Mhz, E640 1.0MHz and E680 1.6 GHz. So customer can select according to their budget and requirement. The Intel processor has included Graphics Media Accelerator GMA 600. Its 2D/3D graphics engine runs at 400MHz and utilizes up to 384 MB of video memory (UMA). The GMA 600 offers a hardware acceleration engine supporting video playback in HD quality MPEG2 and MPEG4 decoding and encoding of videos.
This module contains 1GB DDR2-533 SDRAM. A variety of different displays can be connected via LVDS (18/24 Bit) with a maximal resolution of 1280x768 and via SVDO with 1920x1080 pixels. In the dual independent display mode two displays can be driven simultaneously. It offers a CAN bus, five USB 2.0 host ports, four PCI Express x1 lanes, LPC, high definition audio and a Giga Bit Ethernet interface. Cost-effective and robust SD card mass storage devices can be plugged in via the SDIO interface.
The processors low thermal design power of 2.7-3.9Watt TDP can be used in all kind of application such as POS, Robotics, Human Machine Interface, mobile application and green energy resource application. Please visit us at K0122 of Nangang Exhibition Hall 1F or contact us now for more detail information. http://www.fabiatech.com/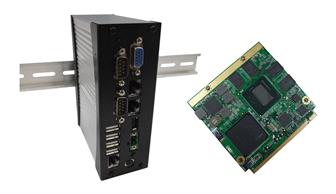 FabiaTech FX5325 and FB2622