Godex introduces new desktop label printer series
Sponsored content
Wednesday 6 June 2012
Taiwan-based barcode printer maker Godex recently reported revenues of NT$65.55 million (US$2.23 million) for April 2012, an increase of 32.32% on year. Godex debuted on the Taiwan OTC market on March 21.
Founded by Dick Tai, president and CEO of Godex, Daniel Chang, vice president of Godex, and consultant Barry Rose, the firm was established in 1993 focusing on R&D and the production of barcode label printers. Godex has accumulated years of experience and continues to strive for stronger competitiveness. The company has become a top barcode label printer maker in Taiwan. Godex products have been sold in over 70 countries and the firm has received numerous awards.
The firm has a wide customer base. In Europe and the US, in addition to barcode label printers, the firm has developed its own free label design software, the QLabel series. Godex was the first firm to provide free label design software to customers.
Godex has the goal of producing high quality and functional barcode label printers and has core values of "innovative technology, honest business." The firm designs and produces its own products and has become highly competitive in quality and price. With loyal and strong friendships with customers, Godex has been experiencing rapid growth in sales over the years. The firm has also been developing OEM/ODM businesses with great success.
According to Godex, the first generation of industrial-use barcode printers, the EZ-2 series, was introduced in 1995. By 2005, the firm had launched its first barcode editing software called QLabelIV which allowed customers to design and format labels according to demand.
In 2008-2009, Godex set up branch offices in Germany, the US, and China to expand its business to international markets. In 2012, the firm aims to finish upgrades to its QLabel software and change the name to GoLabel. In addition, a new generation of desktop barcode printers, the G300 series, will be launched.
"We currently have four product lines: desktop and industrial printers, barcode printer accessories and label designing software," said Godex. "Customers of desktop printers are from industries such as medical institutions, retail shops, and telecommunication service providers."
Godex will be exhibiting all product lines at Computex 2012. In particular, the new RT200 and RT200i series will be the focus. The two desktop printer series have full-package features and are lightweight for easy use. The RT200i series products are compact with color LCD screens to increase the user-interface quality.
According to the firm, the RT200 and RT200I series come with a modern clam-shell design for users to load ribbons and labels with ease. The two series also come with Ethernet and USB ports, plus a full-range adjustable sensors that enable customers to print on small and special labels. Both series have a "C" button which makes label calibration simple.
The two series have similar exteriors except the RT200i has a color TFT-LCD screen with navigation buttons. The RT200 series has two LEDs to indicate "Ready" and "Status" and a control key for "Feed." RT200 has a print speed range from 4-5-IPS (102-127mm/s) depending on type (RT200 and RT230). RT200i series (RT200i and RT230i) has print speeds of 7-IPS (177mm/s) and 5-IPS (127mm/s) respectively. The RT200 series weighs 1.8kg (excluding consumables), and the RT200i series weighs 2kg (excluding consumables).
Godex indicated that its long-term strategy is to continue improving and increasing additional value with its products. The firm also aims at high gross margins. Godex plans to diversify product development in two categories: entry-level and high-end. The firm has been eager and aggressive about obtaining market share in emerging markets such as China, India and Brazil.
"To strengthen our core competitiveness, we have been researching and developing new products to broaden our range of product lines and add depth to each product line," added Godex.
Godex plans to focus on building comprehensive product lines in the short term to increase market share. While lowering production costs, the firm will continue to adopt new technology to provide a complete solution for customers in different industries.
For the medium- and long-term, Godex strives to diversify its product lines by aiming to develop radio-frequency identification (RFID) label printers. Other peripherals are also under development.
"Our aims are to increase brand recognition in the global market and cooperate with ODM customers in different fields to achieve economies of scale and yields," said Godex.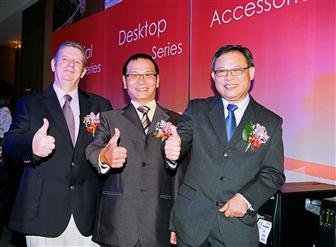 Dick Tai (center), president and CEO; Daniel Chang (right), vice president; and Barry Rose (left), consultant
Photo: Company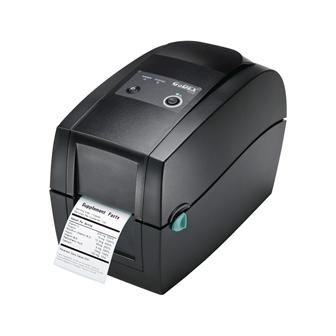 Godex RT200
Photo: Company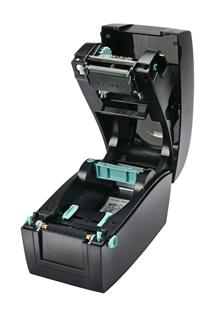 Godex RT200i open
Photo: Company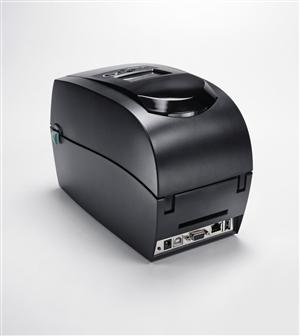 Godex RT200i back
Photo: Company