Eyeing SSD opportunities, Kingmax offers full range or products
Sponsored content
Solid-state drives (SSD) have now been developed to deliver basic functionality at a more reasonable price, with the help of advanced and sophisticated semiconductor technologies. The new storage technology is widening its range of applications from military systems and other specific uses to industrial and mobile devices, and has also found its way into embedded applications.
Compared to traditional hard disk drives (HDD), SSDs have significantly faster read and write speeds to meet storage demands of data centers and cloud computing applications. HDD shortages caused by the Thailand floods have also encouraged enterprises to consider SSDs as the preferred choice of high-performance storage devices.
Having its own packaging and testing facilities, KINGMAX Group is eyeing the huge growth opportunities from SSD demand, and aims to offer a complete range of solutions to customers across different sectors. The firm is gearing up to introduce various new SSDs for applications ranging from consumer electronics and enterprise, to industrial computing and military equipment. New products include those supporting 6Gbps SATA3 and 3Gbps SATA2 for industrial-grade applications. KINGMAX will also release mSATA SSD and half-slim SSD drives for ultrabooks and small-form-factor embedded systems. As for military-class SSDs, KINGMAX is striving to acquire accreditation from relevant certification bodies and expects to start shipping products in the second half of 2012.
Joe Liu, CEO of KINGMAX Group, remarked that SSDs are ideal for cloud computing applications, mobile devices, industrial PCs and military systems, which all require high impact resistance and faster read/write speeds. SSD brand companies have different attitudes toward product quality, resulting in varying degrees of stability and reliability, Liu said. Stability and reliability make KINGMAX products more competitive, Liu noted.
In fact, the threshold for entering the SSD market is not high. Many of the makers specializing in flash modules and storage device controllers have tapped the SSD market. However, developing SSDs for industrial- and military-specification ruggedized systems must rely on strong manufacturing and R&D capabilities.
Stringent manufacturing process controls to ensure stability and reliability
For industrial- and military-grade SSDs, stability and durability are far more important than speed. The drives used for industrial and military applications are required to enable uninterrupted operation, 24 hours a day, and therefore, reliability is one of the key factors when considering the purchase of a SSD.
To ensure its SSDs are high quality, KINGMAX is strict with its selection of materials, parts and components. The firm's extensive experience in the area of memory modules and flash products also allows it to source and select the highest quality components and materials available.
And to ensure consistent performance from SSD systems operating under harsh environments, KINGMAX has built an exclusive production process to stringently monitor quality control results. The quality control procedures include temperate, vibration and humidity tests to ensure reliable operation in order to meet the demanding requirements of the industrial and military industries.
Through those test methods - regarded as the industry standard - such as an accelerated aging test method, KINGMAX is able to evaluate the quality of its SSDs and archive data regarding the drives' durability and reliability, Liu stated. KINGMAX is confident of supplying products beyond the standard data specifications, and its partners are allowed to design and produce goods of competitive or even better quality - a win-win situation for both sides, Liu said.
For example, KINGMAX' SSD modules for embedded devices are designed to meet stability requirements over a wide temperature range from minus 40 to plus 85 degrees Celsius, and also ensure proper functioning at temperatures as high as 90 degrees C. The product achievement allows KINGMAX to create a barrier to entry, and snatch orders without lowering its prices.
In the area for mass-market consumers, KINGMAX offers a series of SSDs with various performance and prices to target different consumer groups. Products cover 6Gbps SATA3 drives, 3Gbps SATA2 standalone drives, or those for desktops. KINGMAX is also among the first players in the SSD space releasing a 1TB variant of its products. Having a complete product offering allows KINGMAX's customers to choose the best solution, and also helps the company to avoid the impact of a price war.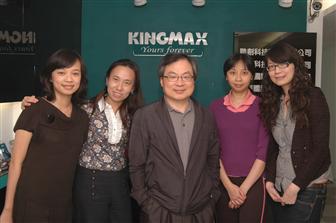 Joe Liu (center), CEO of KINGMAX Group