The rollout of 802.11ac Wi-Fi: Q&A with Broadcom senior VP Michael Hurlston
Michael McManus, DIGITIMES, Taipei
One of the hot trends in the IT industry is the rollout of 802.11ac Wi-Fi products. Branded Wi-Fi 5G by Broadcom, 802.11ac offers a promise of improved wireless reliability, range and coverage. Entry-level 5G Wi-Fi products will support 450Mb per second, at least three times faster than 802.11n, while some high-speed 802.11ac devices will offer transmission speeds in excess of a gigabit per second.
With Computex Taipei about to begin, Digitimes spoke with Michael Hurlston, senior VP and general manager, Wireless Combo Connectivity Line of Business at Broadcom to discuss the rollout of 802.11ac.
Q: Why does Broadcom call 802.11ac fifth generation Wi-Fi?
A: It's a branding issue to compare advancements being made in the cellular wireless space with the Wi-Fi space. We are running one generation ahead of the cellular players. Wi-Fi has gone from 802.11 to 802.11.b, 802.11.g, 802.11.n and now to 802.11.ac.
Q: What kind of announcements for 802.11ac can we expect from ODMs at Computex?
A: We had originally expected a slew of announcements to first start coming during Computex Taipei but it looks like our partners have been trying to one-up each other and launches were made starting in April, when Netgear announced a US$200 wireless router. We do still expect to see even more announcements in the router and gateway area during Computex.
Originally we told the press and analysts to expect products to begin shipping sometime in the summer during the back-to-school timeframe, but now we're looking at early summer, if not spring, for a majority of these products to begin hitting the shelf. In fact, products already started shipping in May.
The first products to ship are routers and gateways, with PCs coming shortly after. We thought PC products would ship late in the third quarter or maybe early in the fourth quarter but we're on track to pull that schedule in as well. Now potentially we'll have PC or client type devices with 802.11ac support shipping in the summer time.
Q: Last year Broadcom was making a push for Wi-Fi Direct, which is a type of distributed Wi-Fi. Can you compare that rollout and market interest to what you are seeing with 802.11ac?
A: Last year at Computex, Broadcom was pushing Wi-Fi Direct on portable devices and that technology was just getting going at the time. Now Wi-Fi Direct is fairly ubiquitous, with every device we ship having Wi-Fi direct software capabilities built into it.
What we have been seeing with Wi-Fi Direct is a number of interesting usage cases developing, with most of them focusing on video. For example, one area is Wi-Fi Display, which allows you to take content such as a movie clip from a tablet or phone and push the content to a TV for viewing. The Wi-Fi Direct ecosystem realizes there are a number of ways this content can be moved directly between client devices, so there has been related increased demand to move the content from the network to the client wireless device, and that should spill over into demand for 5G Wi-Fi. Basically, you have video that needs to move over these links and that has precipitated the move to a faster bandwidth solution.
Another big concept pushing 5G Wi-Fi demand is in-home video distribution. From a North America perspective, what we are seeing is a big shift where service providers such as AT&T are busy advertising and pushing the concept of the wireless set top box (STB).
AT&T was the first carrier to really start offering wireless set top boxes, with its current product shipping with 802.11n. It is actually using our technology but it does have some limitations since the range is limited. If you are too far from the major access point you need to switch to a wireline connection. Also, the number of set top boxes a customer can have is limited to three units and some homes and in the US want to add 4-5 set top boxes.
Now if you have one central distribution point that is based on the increased coverage of 802.11.ac wireless, this becomes a very attractive option to the carriers, because it offers all the virtues of the mobile set top box that they are pushing on TV while doing away with the need for any wireline connection. This offers the potential for faster installation times since they can install a wireless set top box incredibly fast. They don't have to have wires running into walls or into ceilings. Doing it wirelessly saves them a tremendous amount of money.
So all the carriers are interested in offering a wireless set top box solution but some of them have been concerned about doing it in a huge way due to some of these range and bandwidth limitations associated with 802,11n. However, 5G Wi-Fi has been a huge lift to that segment of the market and we see the carriers gravitating to 802.11.ac as being the answer to some of the concerns they have. This push will be big and it will come from the carrier perspective rather than from a device perspective.
Q: How do you expect 5G Wi-Fi products to be priced? For example, the first home routers were being offered for about US$200?
A: We are also seeing launch prices at around US$200, and you can probably expect perhaps a $20-something step down once the back-to-school season arrives and another reset for the end-of-year holidays, when some more appreciable reductions will arrive based on new chipsets that we might have coming out or due to other savings makers might have to promote the end-of-year holidays.
Q: How about 5G Wi-Fi on the client side?
A: Each product category has its own cadence. The gateway market or the home router market has the fastest cadence. The PC market is typically a little bit longer. As I mentioned, we are now expecting to see PC products shipping with 5G Wi-Fi sometime in the third quarter. Optimistically we may even see some co-announcements made at Computex. It is still touch-and-go as to whether we can meet such an aggressive rollout. Finally, we would expect mobile phones and TVs to have a slower cadence. The first time we would expect to see these types of products is end-of-year, moving into first quarter 2013.
Q: What about tablets?
A: Tablets are an interesting area. Basically tablet development has been an off-shoot of smartphones, so OEMs have been using the same Wi-Fi solutions for tablets as they use for mobile phones. One characteristic of mobile phones though, is that there are space constraints so they cannot support multiple antennas. That is why you only see single-stream Wi-Fi technology on mobile phones. So if you look at what we see in the tablet market - and we have a huge market share in the tablet market - 100% of the Wi-Fi tablet solutions we have shipped up until now have been single stream. However, going back to what I said about increased demand for high-bandwidth video on tablets, vendors are realizing that tablets are big enough to support multiple antenna technology.
Therefore, in the post Computex timeframe you can expect to see some tablet refreshes that feature two-stream Wi-Fi. Mind you, these will be still be 802.11.n solutions but the idea is the same. Users are demanding more throughput to support video applications. You can expect these products to be coming onto the market in the third quarter of this year and they will feature higher data throughput in the tablet space.
Q: What about the power consumption of these products?
A: For mobile devices, the key mode people worry about for Wi-Fi power consumption is standby mode. In that context, our two-stream solutions will consume the same amount of battery power as the single stream solution that we ship to mobile phones. If you look at power consumption in active mode, the two-stream solution does consume more power but then again you have to look at the total power consumption, since data is being transmitted much faster. Overall, the total power consumption is lower in active mode by about 25-30%.
Q: For 5G Wi-Fi solutions, how many streams can we expect for tablets?
A: How about we talk about the whole market. For the router solutions, you can expect to see three streams, while PC solutions will have two streams and handset solutions will continue to have one stream. As for tablets, the market is evolving but you can expect two-stream solutions in the first quarter of next year.
Q: There have been reports that mobile device system makers are looking to take more control of their product platforms by having more control over the silicon inside them. Can you comment on how Broadcom views this trend?
A: In general this is a good thing for us. Basically, the top tier players are doing this, players such as Apple, Samsung and perhaps even HTC. What we are seeing is that the applications processor is the area where customers have looked to differentiate their products and control their own destiny. This is where they are making their investment and the final devices are then targeted for the higher-end of the market. This is the portion of the market where the OEMs are trying to differentiate their products from the vanilla Android platform products that everyone is offering. And this trend has been outstanding for us from a connectivity perspective because when it comes to connectivity for these mobile devices, typically the OEMs will seek out best-in-class performance. And in this market, Broadcom has best-in-class connectivity. Just look at all the high-end phones in the market. They are all using Broadcom.
Q: Can you provide a little more color on how OEMs are using Broadcom silicon to differentiate their products?
A: For example, I spoke before about how there are Wi-Fi Direct software capabilities built into all Broadcom Wi-Fi solutions. Wi-Fi Direct is only a rudimentary kind of plumbing, in that it can establish a connection between two devices at a very basic level. Basically, it negotiates the handshaking protocol between two devices. That is what we provide. However, if you want to stream video from device one to device two, the application that decides how that is done and how it is processed by the user is typically handled by the OEM. They come up with the application code to make it as easy as possible for the consumer to do this - a very good example of this is AirPlay from Apple. It is Apple's application code that pushes content from one Apple device to another. The application layer is where the OEMs can differentiate. On a basic level though, it makes sense for all of those devices to be built on a standard wireless solution that is understood by all the devices. Having only one type of initial handshake rather than needing to support all different types of handshakes is much easier for the OEMs. And this should work across multiple types of devices, whether it is a tablet, handset or TV.
This works well for us because in addition to being best in class for connectivity, Broadcom has the unique advantage of having wireless technology going into all three of these categories, making it easier for our partners to get connected using one set of similar code.
Q: Are there any other wireless technologies we should be on the lookout for during Computex?
A: One area we see a lot of interest is in the area of near field communications (NFC). The global banking industry has been getting a lot of attention in the handset space for this and this is an area where we are also participating. Like any other segment though, there has been a lot of churn around the mobile banking concept due to a chicken and egg issue - who wants to build infrastructure when there are no applications, and vice versa.
However, the interesting thing we are seeing is that a whole new category of applications are appearing around NFC, where the concept of touch or a kind of proximal location is allowing fast connections between two devices. We are seeing a lot of pickup in this area as technology in areas like printers, consumer electronics, etc., is creating a pairing between a mobile handset and a TV or gaming device, or any other device for that matter, and that is driving the market and creating a lot of interest and enthusiasm outside of the mobile banking area.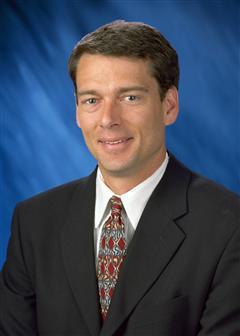 Michael Hurlston, senior VP and general manager, Wireless Combo Connectivity Line of Business at Broadcom
Photo: Company