Sustainable Value-driven Synergy in the Healthcare Sector in India
Press release
Monday 4 June 2012
There is a new paradigm in healthcare. Hospitals and clinics around the world are seeking digital technologies to improve the patient/doctor experience. New technologies increase efficiency, improve diagnoses, provide a platform for better patient counseling, increase accuracy, reduce stress, and give healthcare providers more time to spend with patients and their families. India is responding to huge demand in the medical services sector fueled by the size of its population, and a growing talent pool of healthcare providers. Some estimates place growth of the US$70 billion-plus industry at over 20% for the year, and technology is playing a vital role in helping keep up with demand. The market is complex, with plans to place 6,000 ambulances in service, to reduce backlogs, and respond to the growing upper and middle-classes; to supply solutions to both a high density urban environment and a regional environment, with demand for quick response from providers over long distances. The challenges faced in the market require new strategies which is where Allarch Healthcare, in collaboration with Advantech, leads the drive to provide innovative and sustainable technologies to the both public and private sectors.
Sustainable Value Fuels Growth in Healthcare
Mr. Umesh Ghai of Allarch Healthcare sums up the role his organization plays, in partnership with Advantech,in delivering to the Indian medical sector. "Advantech and Allarch Healthcare establish sustainable value-driven synergy for our healthcare customers in these most challenging times. Advantech's innovation-driven solution strategy, leveraging Allarch's unique domain driven, workflow-enabling product positioning, facilitates the journey healthcare providers undertake on the way to a digital world that improves efficiency and patient experiences." Mr. Ghai is in a position to know. Allarch Healthcare grew from the medical construction field when it became apparent there was a need to deliver niche, innovative technologies and solutions to meet the demand in the healthcare ecosystem. Advantech, a long time leader in providing industrial-grade, medically certified equipment for digital healthcare, was able to take advantage of Allarch's unique domain experience and knowledge of local market conditions. The synergy of this union creates a value proposition for healthcare suppliers throughout the country, which is leading the way to the delivery of innovative, world-class digital healthcare solutions. Mr. Ghai expects continued high growth in the sector for at least the next 15 years, both in public and private facilities. Allarch has over 10 years experience in the industry, and this year teamed up with Advantech to showcase solutions at two major events; India's Hospital Infrastructure show, and an EMS-themed show where point-of-care and computerized nursing cart solutions were on display. These mobile technologies boost efficiency and free up time for doctors and staff to spend more time with patients. Providing education in the field to healthcare leaders about what the technology enables is the key to its successful adoption.
The Benefits of Focused Channel Partnership
There has been a shift in channel management methodology that allows for projects to be scaled up,delivered on time, with a minimum of trouble, and a maximum of ongoing support and service. Advantech terms this shift a "Focused Channel Partnership." In essence, it starts with the understanding that each market and each vertical industry has specific needs best attended by local experience, and backed by global alliance, manufacture,and ongoing support. Advantech's Gavin Lee explained, "Using Marketing Intelligence, we carefully select the right sector, partner and business opportunity, and that's what allows us to engage and execute key projects more efficiently. Focused Channel Partnerships build on this principle by allowing our partners to focus on doing what they do best. The result is a higher closing rate and a win-win scenario for everyone." Such is the case with the Allarch Healthcare partnership. Mr. Lee explained that Allarch understands the intricacies and subtleties of the rapidly growing and constantly changing medical care industry in India. They provide a technical anchor in country that combined with Advantech's wide-range of technical capabilities, its experience, and its global reach,creates a synergy to propel projects forward. Mr. Ghai explained that digital healthcare is still new to the local market. Allarch Healthcare is able to provide local product demos that illustrate increases in patient accuracy and efficiency, while emphasizing key product features like the importance of medically-certified systems which operate quietly and reduce risks of dust and bacterial infection by virtue of easy-to-clean surfaces and fanless designs.
Clear, Two-way Communications and Information Sharing
Both Mr. Lee and Mr. Ghai stressed that a key success factor of the partnership is the facility it creates for open communications. The process goes like this: Allarch regularly displays and demonstrates end-to-end digital healthcare solutions to big healthcare providers in country; they are able to collect feedback and actively listen to customers to respond to changes in market needs; Advantech and Allarch engage in ongoing dialog and Advantech, using its engineering knowledge and manufacturing capabilities is able to respond quickly with specific products. The key is careful and frequent communications to help define controls, customization needs and identify changes early on in a project cycle,and so on. Results are achieved by back-and-forth communications, engineering discussions, testing in healthcare facilities, and quick turnaround throughout Advantech's manufacturing chain; getting the right product to the field. For the end-customer this means they get exactly what they need, when they need it. Market demand is efficiently translated into tangible solutions.
Advantech's focused channel partnership gets intelligence collected by Allarch Healthcare into the channel for quick planning, implementation, and post-operational support. Mr. Ghai added that Advantech's proactive approach and quick-to -market changes are keys to Allarch's responsiveness in the field. Gavin Lee said, "Without a doubt, we are on the right track to co-work with worldwide partners using the MI and FCP approach. We are effectively mobilizing the right resources with the right partners in the right markets." A clear and mutually beneficial cooperation model, combined with the hard work of both the Advantech and Allarch teams, are responsible for moving projects from the concept stage to reality.
The success of Advantech's focused channel partnership with Allarch India helps bring about patient-centered healthcare solutions in a quickly growing market. This is a win-win situation for Advantech, for Allarch, and more importantly for the patients and caregivers who derive the benefit of safe, efficient and error free digital healthcare solutions. The results of this on-going collaboration can literally be life saving.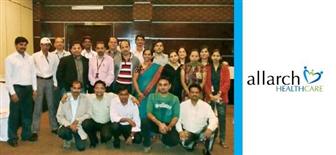 In specific vertical markets, choosing the right local partner in the right sector with a thorough understanding of the business can make or break.
DIGITIMES' editorial team was not involved in the creation or production of this content. Companies looking to contribute commercial news or press releases are welcome to contact us.