Advantech Makes Testing More Effective, Advancing Intelligent Vehicle Inspection
Press release
Monday 21 May 2012
Scene: Mr. Wang is happily preparing to take his family on an outing in their new electric car. But he sees a low battery warning on the display panel. Although the warning disappears in an instant, Mr. Wang is concerned that the vehicle may not be up to the demands of the day, so he decides to go to the repair shop.
As soon as the children hear his decision, they are totally bummed; they know that vehicle analysis alone can easily consume half a day, and their happy holiday plan is trashed. But wait! Not this time. Unlike the past, the inspector checks the car using a mobile computer, which reports the car's mechanical status and power capacity in less than 10 minutes. The car is good to go, and the Wang family is off on their happy journey, enjoying a relaxing holiday.
The New Energy Division Software Manager of BYD, Shiau Fong Shen, pointed out that electric cars are the future of the automobile industry. BYD has for a long time invested in the electric vehicle business; it has not only developed successful designs and production systems, but also provides a complete and convenient backend system to maintain its electric cars.
This is an important part of BYD's new energy policy. BYD, with support from Advantech, has made a big effort to offer consumers a top notch vehicle inspection service.
In-Vehicle Computer Provides Advanced Dynamic Control
Shiau Fong Shen said that understanding batteries is an important element in electric vehicle development. Different designs and applications have vastly different effects on battery life and usage; consequently BYD's engineers have to manage a plethora of relevant vehicle and battery information to achieve optimal design results.
In the past, engineers used various methods and a complex process to acquire battery data. In order to accelerate this procedure and simplify the general inspection, Advantech invehicle TREK series products implement a complete solution that can quickly inspect the battery in a new electric vehicle. TREK is specifically developed for automotive applications, and its power supply meets ISO 7637-2 and SAE J1113 certifications. In addition, TREK connects easily to the built-in computer of a BYD electric car; it uses Controller Area Network (CAN-bus) J1939 protocol to access vehicle information. Shiau Fong Shen said, "When a customer vehicle comes into our garage, engineers use this inspection system to easily acquire the car's information via TREK." The Advantech system can also deal with failure diagnosis, but right now, BYD is focusing on battery inspection. Therefore, the system mainly provides the power data acquisition, such as electric current, voltage, operating temperature, stability, and other related data.
The Best Supporter for New Energy Applications
Advantech pointed out that both companies have built rapport and trust through cooperation. "The original case with BYD was to provide charging equipment, but we found that BYD was using common notebook computers to serve as their data acquisition devices. Although a notebook can do this work, it needs different connecting accessories, and often loses the data collected, so we suggested that they upgrade to a vehicle specific product."
Advantech's in-vehicle solution not only avoided data loss, but also provided a convenient design that eliminated inappropriate operation. And charge frequency was reduced too, by Advantech's long-term operation feature.In addition to all-electric vehicles, hybrid cars and gasoline cars can also adopt Advantech's relevant testing solutions.Right now, each inspection workshop only needs to set up three to four stations to satisfy operational demands. Citing the rising awareness of new energy and the BYD electric car as a hot selling product in China, Shiau Fong Shen illustrated that the demand for such inspection solutions will increase dramatically in the future.
Shiau Fong Shen also pointed out that BYD has many other projects that have the potential of using Advantech's products. Take the embedded board as an example; it is quite suitable for management-related tasks in electric vehicle charging systems. By following the roadmap of BYD's electric cars and related developments, Advantech helps them yield brilliant results.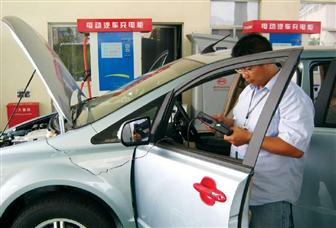 BYD has for a long time invested in the electric vehicle business; it has not only developed successful designs and production systems, but also provides a complete and convenient backend system to maintain its electric cars.
DIGITIMES' editorial team was not involved in the creation or production of this content. Companies looking to contribute commercial news or press releases are welcome to contact us.