Samsung introduces Galaxy S III smartphone
Press release, May 4; Joseph Tsai, DIGITIMES
Samsung Electronics has announced the third generation Galaxy S, the Galaxy S III. With Samsung Galaxy S III, consumers can view content on the device's 4.8-inch HD Super AMOLED display. An 8-megapixel camera and a 1.9-megapixel front camera offer users a variety of intelligent camera features and face recognition related options.
Samsung Galaxy S III is powered by Android 4.0, Ice Cream Sandwich.
The Galaxy S III features S Voice, a natural language user interface, to listen and respond to words. In addition to allowing information search and basic device-user communication, S Voice presents powerful functions in regards to device control and commands.
In addition to recognizing face and voice, the Galaxy S III understands personal motions. If consumers are messaging someone but decide to call instead, they can simply lift their phone to ear to Direct call the number. With Smart alert, the Galaxy S III will also save consumers from trouble by catching any missed messages or calls; the phone will vibrate to notify missed statuses when picked up after being idle.
With the new S Beam, the Galaxy S III expands upon Android Beam, allowing a 1GB movie file to be shared within three minutes and a 10MB music file within two seconds by simply touching another Galaxy S III phone, even without a Wi-Fi or cellular signal. The Buddy photo share function also allows photos to be easily and simultaneously shared with all friends pictured in an image directly from the camera or the photo gallery.
With AllShare Cast, users can wirelessly connect their Galaxy S III to their television to immediately transfer smartphone content onto a larger display. AllShare Play can be also used to instantly share any forms of files between Galaxy S III and tablets, PCs, and televisions regardless of the distance between the devices. Under AllShare Play is also the Group Cast feature that allows consumers to share their screen among multiple friends on the same Wi-Fi network; consumers can make comments and draw changes at the same time with co-workers, witnessing real-time sharing on individual devices.
The Galaxy S III is available in blue and white at launch, while Samsung will introduce a variety of additional color options at a later time.
With a 4.8-inch HD Super AMOLED display, the Galaxy S III offers a large and vivid viewing experience. To ensure faster content sharing and connectivity, the Galaxy S III offers Wi-Fi Channel Bonding which doubles the Wi-Fi bandwidth.
The Galaxy S III also sports a range of additional features that boost performance and the overall user experience in entirely new ways. It introduces 'Pop up play,' a feature that allows users to play a video anywhere on the screen while simultaneously running other tasks, eliminating the need to close and restart videos when checking new emails or surfing the Web.
Mobile payment is also accessible with the device through advanced Near Field Communication (NFC) technology. The gaming experience is enhanced through Game Hub, providing access to numerous social games, while Video Hub brings users high quality TV and movies. Furthermore, Samsung Music Hub will offer a personal music streaming service. Game Hub, Video Hub and Music Hub will be introduced in select countries initially and soon rolled out to global markets.
The Samsung Galaxy S III will be available from the end of May in Europe before rolling out to other markets globally.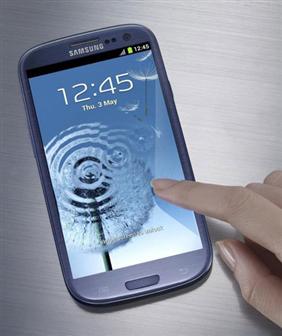 Samsung Galaxy S III smartphone
Photo: Company