Memoright unveils 7mm ultrathin SATA III FTM Plus Slim SSD
Press release
Friday 13 January 2012
Memoright, a leading provider of solid state drive (SSD) products, has unveiled its first 7mm ultrathin FTM Plus Slim SATA III SSDs that can be fixed directly on HDD slots of the next-generation Ultrabook models to optimize the performance of STAT III 6Gb/s interface.
While SSD has become a standard specification for enthusiast PC gamers owing to its features including high-speed read/write performance and high shock resistance that can break through the performance bottleneck of PC systems, the introduction of SATA III 6Gb SSDs further highlights the advantage of SSD's read/write performance.
For users of enthusiast notebook models such as ThinkPad X220/T420s/E420s, an upgrade in SSD will not only improve substantially boot speed and read/write performance, but also increase battery life and shock-resistant capability. Many next-generation sleek notebooks are built to fix with 7mm HHDs or SSDs, but most of SSDs currently available in the market have a standard thickness of 9.5mm, making a number of Ultrabooks unable to access high-speed storage performance through a direct upgrade to SSD.
The roll-out of 7mm FTM Plus Slim SATA III SSDs from Memoright enable direct performance upgrading for next-generation notebooks, delivering a read/write speed of up to 550/500 MB/s. It also allows users to fix the FTM Plus Slim SSDs directly on notebook models having a 7mm SSD slot without the need of an upgrade, while maintaining the durability of the products.
The FTM Plus Slim SSD, which is comparable to Memoright's FTM Plus lineup, comes with exclusively-designed built-in voltage-stabilizing protection circuits. By employing built-in OVP (over-voltage protection) and OCP (over current protection) ICs and ESD (electrostatic discharge) protection chips, the FTM Plus SSD is able to shut down power to protect its data when facing irregular voltage and current.
The well performance of Memoright's FTM Plus SSDs has received a high-degree of recognition from the world's renowned hardware review Websites including Tom's Hardware and AnandTech. Memoright's FTM Plus SSD takes the number one position in comprehensive performance rating among 40 branded SSDs in Tom's Hardware's SSD Charts 2011. The FTM SSDs have also received awards as well as strong recommendations from US-based Website Tweak Town and UK-based Website KitGuru.
Memoright is renowned for its durable and reliable ruggedized SSD solutions, extending the applications of its devices not only to the military segments in the US and Europe but also to civic aircraft manufacturers worldwide. Memoright's flagship SSD solutions have been employed in aircraft cockpit instruments and digital systems, as well as in aviation systems in a number of cruises in Europe. This proves that Memoright has been taking a steady way to pursue product quality and build up its brand as the best choice of high-performance storage devices.
About Memoright
Based in Taipei, Taiwan, Memoright is one of leading SSD innovator dedicated to collaborating with customers and partners on developing world-class excellent performance, high reliability, and cost effectiveness SSD products.
The design of Memoright SSD is centered around corporate (enterprise and industrial/ military/vehicle) users, who need incredibly fast performance & unique, 100% data integrity. In addition to a standardized range of products, we also deliver customized services to meet our customers' needs. To accommodate supporting our extensive product range and rapid increasing needs all over the world, we have set up R&D and support centers in the US, Europe, Wuhan and Taipei. We have also constructed state-of-the-art manufacturing facilities in Wuhan with ISO: 9001 certified quality management system.
Marketing and PR contact:
Memoright Corp.
Charles Chou
Marketing Division
Tel: ¡Ï886-2-22183789ext5134
Fax: ¡Ï886-2-22185155
Email: charleschou@memoright.com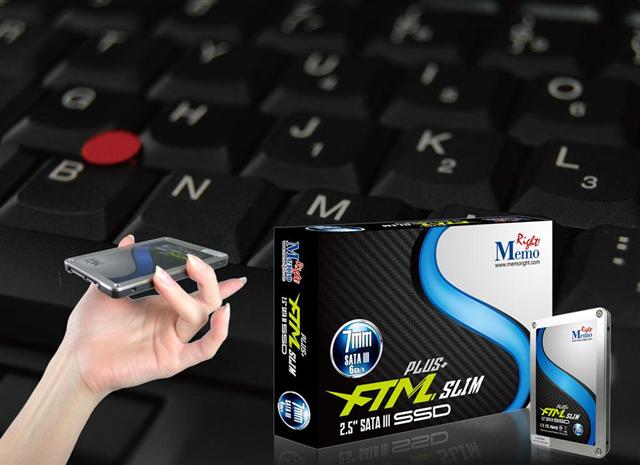 Memoright 7 mm ultrathin SATA III FTM Plus Slim SSD
DIGITIMES' editorial team was not involved in the creation or production of this content. Companies looking to contribute commercial news or press releases are welcome to contact us.