Phoenix Technologies strengthening technical support services for the forthcoming UEFI BIOS era
Sponsored content
Thursday 15 December 2011
US-based Phoenix Technologies has been in the BIOS sector for more than 30 years and in addition to its BIOS business, the company also entered the operating system (OS) and application sectors a few years ago. In 2010, after receiving investment from a private equity fund, the company consolidated its engineering focuses on the BIOS sector and related services, and after more than a year of strategy adjustments and reforms, it has already achieved initial success. Currently, Phoenix's UEFI BIOS solutions cover such segments as the notebook, desktop PC, server and embedded system, and the company's high market share in the notebook market is an indication of the company's strong R&D capabilities in the BIOS sector.
With the new-generation UEFI BIOS platform gradually becoming mature, and the related functions offering better support for the Windows 8 operating system, many system integrators are starting to choose UEFI BIOS to replace the Legacy BIOS, looking for an early understanding of the development methods for UEFI BIOS and hoping to provide consumers with a better and more secure user environment. As a founding member of the UEFI Forum, Phoenix in 2010 launched the SecureCore Technology (Phoenix SCT) BIOS solution that met the UEFI standards, and earlier in 2011 the company launched the next generation Phoenix SCT 2.2, featuring more than 60 new functions in nine major categories to provide its partners with a complete BIOS solution.
"After changing from a publicly traded company to a private firm, the company currently has an even stronger management of our operation strategy, and can be more focused on the R&D in BIOS technologies to offer our partners better products and after-sales services," said David Everett, company senior vice president of field operations. Phoenix currently has branch offices in the US, Japan, Taiwan and Korea, as well as a large technical support team in China – the largest domestic market of the world – to allow its products to enter the consumer market at the fastest possible pace.
Strengthening cooperation with first-tier international OEMs to boost market share
Major international OEMs will often work with their technology partners in the development of products during the early stage of product design. To materialize the major concepts behind the new models, the vendors will cooperate with their major partners from the supply chain to seek breakthroughs in terms of technology and design to increase product differentiation and accelerate the time to market.
Headquartered in Silicon Valley, Phoenix has over 20 years of partnerships with many major international OEMs and has built an OEM Identity Library based on the modularized structure of each partner's BIOS features to allow the characteristics of the OEMs' products to remain consistent in different combinations of software and hardware applications.
"Phoenix has close partnerships with many major OEMs and chipmakers, and continues to seek innovations in the BIOS sector. We maintain specific service teams at the locations of our OEM partners' headquarters or on-site personnel to give timely assistance to our clients during technology development," noted Everett. "Phoenix is the founding member of many industries' standards-setting groups and has been active in taking part in the setting of new industrial specifications. Since the company is one of the standards setters, when system developers adopt the new standards, the company can provide professional technical advices and services related to the adoption."
Easy-to-use development toolkit helps reduce learning curve
As Windows 8 will soon be launched in 2012, issues such as the unresolved security vulnerabilities hidden within the current PC structure and the 2TB capacity limitation for storage devices, will create troubles for consumers, but at the same time will boost demand for UEFI products in the market. Although many vendors are set to launch various products based on UEFI BIOS, they face limitations arising from the difference between the present and previous methods for product developments and market deployments. Due to insufficient human resources, they will be unable to make timely adjustments to the directions of product design and development in response to demand in the market.
Compared to other BIOS vendors' solutions, Phoenix's SCT 2.2 inherits the easy-to-use characteristics of the past and can be operated without the need of re-learning to easily design products that comply with the UEFI standards. It is the best choice for companies seeking to maintain their competitiveness in the market. Furthermore, Phoenix also offers complete supporting services that can provide timely technical support from early-stage design to back-end production to help lower the barriers for product development.
Everett explained, "We have a complete network of technical support centers worldwide with mechanisms to maintain mutual support and cooperation and to assist partners in resolving technical issues during the R&D and volume production stages. The significant rise in demand for UEFI BIOS will highlight our competitiveness." Phoenix has always been recognized by partners for its complete technical support. For example, many ODMs run their R&D and production separately in Taiwan and China, respectively. In addition to receiving support from Phoenix's technical team for their R&D centers in Taipei, their production lines in China will also receive on-site support from Phoenix's technical staff during pilot runs to help resolve any issue during actual production.
Providing solutions compatible with both x86 and ARM platforms to satisfy demand from different markets
The portability, low-power consumption and connectivity of smartphones and tablet PCs have quickly made them consumers' favorites, not only affecting sales of notebooks but also prompting Intel to invest in related sectors and launch corresponding processors. As for the ARM platform, which features low power consumption, the big improvements to its computing capabilities in recent years have expanded its application beyond mobile devices, and Microsoft will even support the ARM structure in its forthcoming Windows operating system. This will complicate system vendors' launch of related products.
ARM has a completely different structure than x86 and with support from Windows in the future, there will be many different platforms derived from different combinations of processors and the operating system. Therefore, most of the vendors are hoping that there can be a single BIOS solution that can meet the needs of different environments through modularized changes to reduce firmware engineers' re-learning burden.
"We believe the appearance of Intel's Ultrabook and Microsoft's Windows 8 will trigger a new wave of demand," said Everett. "Phoenix's expertise is attested to by its excellent firmware architecture and library of abundant patents. For consumer models, our program source code is concise with a clear structure to significantly boost the efficiency of product development in this age of multiple platforms. For the enterprise applications, Phoenix has abundant experience in developing security-related functions and can help increase product differentiation. For partners who want to tap related markets, our solutions are the best choices currently available on the market."
For the pace of new product launches, as well as follow-on development tools and technical support, Phoenix offers complete and detailed planning. In addition to solutions designed to avoid possible technical issues arising from the transition to UEFI platform, Phoenix also has corresponding solutions and service models to fulfill demand from different market segments, such as the notebook, desktop, server and embedded system. For notebook, tablet, server, and embedded developers who are currently facing fierce competition in the global PC market, they can rely on Phoenix's solutions to satisfy their needs for developing UEFI products and enhance their product quality, making sure they stay competitive in the market.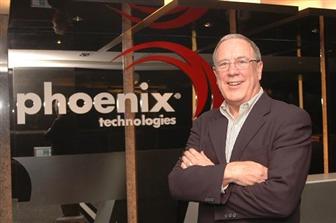 Phoenix senior vice president of field operations David Everett pointed out that after changing to a private firm, the company can be more focused on the R&D on BIOS technologies to offer our partners better products and after-sales services.
DIGITIMES' editorial team was not involved in the creation or production of this content. Companies looking to contribute commercial news or press releases are welcome to contact us.