Intelligent process control in power & energy delivers better power efficiency
Press release
Thursday 1 December 2011
In the power and energy industry (P&E) the essential requirements of power generation are never far from environmental issues. The ever increasing demand for energy from the private and public sectors needs to be balanced with pressures on the environment. And, one of the simplest ways to help the environment is to be more energy efficient, not just preventing energy wastage, but actively developing more efficient power generation processes, and this is where process automation comes in. What we need are smarter devices that communicate real-time with people and with each other, for example, devices alerting each other, and people who administer these systems, to production problems or bottlenecks, thereby reducing energy inefficiencies.
But our story begins with automation controllers. Once upon a time there were relays and timers, and then along came digital programmable logic controllers or PLCs which dramatically changed the scope and ambition of industrial automation control. PLCs were fully deterministic with deliberately limited control functions - just what was needed for manufacturing, building and factory automation. However, PLCs can be "too" limited and cannot be used for complex mathematical formula, but with the arrival of the PC, inexpensive computing became ubiquitous, and combined with programmable logic controllers we now saw the arrival of the PAC, or Programmable Automation Controller. PACs are a hybrid solution consisting of programmable logic controllers combined with the general purpose capabilities of PC technology. PACs are most often used in industrial automation for process control, data acquisition, remote equipment monitoring, machine vision, and motion control. Additionally, because they function and communicate over popular network interface protocols like TCP/IP, OLE for process control (OPC) and SMTP, PACs are able to transfer data from the machines they control to other machines and components in a networked control system or to application software and databases. PAC's can be used over different application domains by adhering to open industry standards and providing multidiscipline programming and functionality.
Over the years automation controllers have evolved to provide ever increasing levels of control and options. Today's PACs can map control across multiple production layers as needed for data acquisition, process control, machine vision, motion control and more. Recent advancements in controller technology allow better flexibility, information processing, network capabilities, and improved scalability. PACs provide state-of-the-art solutions for variety of industrial automation applications, from Machine Automation to SCADA.
As industrial processes becomes increasingly complex, so does automation control and better control systems are required to integrate all proprietary and legacy systems that have evolved and are built upon other systems. What's needed is a control system that is scalable and modular and designed for engineering, visualization, control and management of small plants up to distributed control systems. AutomationX offers integrated solutions for process automation in Power & Energy, and Transportation infrastructure and many other automation industries.
End-to-end Solution
Advantech and AutomationX jointly developed a control solution that served a Power & Energy customer in power distribution with a process control solution that needed to meet IEC-61850 and IEC-870-5-10x which is a standard for the design of electrical substation automation. AutomationX integrated their award winning process control software with Advantech's acclaimed APAX-5000 series PACs, as well as the UNO series for a win-win solution that met the customer's specific and challenging requirements. Advantech was chosen by AutomationX for their wide-range product portfolios as well as vertical market domain know how. And because customers in such critical industries as Power & Energy require long lifetime support, Advantech was the natural choice having been in the automation business for over 25 years. They could supply AutomationX with the longevity guarantees they needed to win the project. AutomationX's aX5 DCS software with Advantech's APAX 5000 series PAC controllers offered a control engineering solution that protected the client's investment but which could also grow in the future.
Network Intelligence Delivered
Rindler elaborated, "AutomationX's aX5 DCS software offers what everyone is looking for now - a single software tool that allows you to engineer and visualize everything across multiple domains. Units that cover a large geographic area always present a challenge. We recognized early on what the needs were for partial autonomy of the unit at the field level, thus local intelligence, on the one hand, and the maximum penetration (vertical integration) of the control center, on the other hand, and built on that insight. The control system AutomationX offers is modern data transmission technology paired with control technology in the field that has the openness of IT systems. Furthermore, we integrate all unit components regardless of the manufacturer and thus guarantee a consistent interface between operator and unit. Advantech saw in our software portfolio the fulfillment of a vision for integrating all the intelligent and smart devices that make up the Internet of Things. The combination of Advantech hardware and our software portfolio is perfect for the market today. By working with Advantech, we can tap into the experience of a leading global player that is well established in the industrial automation and control business. This means we are able to achieve the flexibility and responsiveness required in today's globalized environment and offers our customers complete end-to-end solutions. Advantech helps us provide a more efficient way of developing more favorable control engineering solutions as well as helping customers reduce risk and costs," said Mr. Rindler.
Advantech and AutomationX's jointly developed automation application is another example of the Intelligent Planet - an end to end solution for today's complex industrial automations and process control markets.
About AutomationX:
AutomationX is an internationally operating technology company, which is specialized in automation solutions in the fields of industry, infrastructure and energy. AutomationX's own software and hardware products provide a basis for these solutions.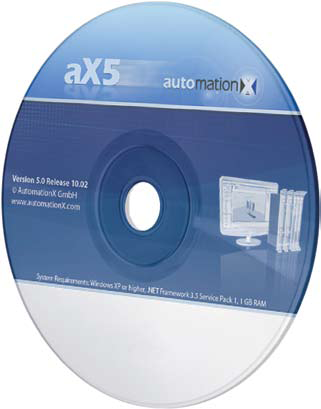 AutomationX software plus Advantech's APAX PAC controllers work smarter to define a new generation of industrial controllers.
DIGITIMES' editorial team was not involved in the creation or production of this content. Companies looking to contribute commercial news or press releases are welcome to contact us.