Avantor holds Grand Opening Reception and Semiconductor Forum to celebrate establishment of new Electronics Laboratory in Taiwan
Sponsored content
Tuesday 27 September 2011
In order to provide quick services for the semiconductor industry in Taiwan, Avantor Performance Materials, a global manufacturer of high-performance chemicals, has set up a Taiwan branch in Chupei City, Hsinchu County. The company held a Grand Opening Reception in the morning on September 20, with lots of distinguished guests' participation. Also, the Forum on Semiconductor Industry Trends was held in the afternoon, inviting key semiconductor VIPs to share the latest technology trends and to provide the audience with insightful opinions.
The grand opening ceremony was started with a short speech delivered by Jean-Marc Gilson, CEO of Avantor, saying, "Avantor is a company of 140 years of history. We have served the electronics industry with J.T. Baker brand name for 25 years. After being acquired by the private equity firm, New Mountain Capital, last year, the company has changed its name to Avantor."
He emphasized that with the resource provided by the new investor, the company now has more focused plans to target new markets and expand business scopes. In Avantor's global strategy, Taiwan, which is the manufacturing center of global electronics industries, is the essential part of it.
As a high-performance materials supplier, Gilson indicated, "We must be close to our customer, in an effort to deliver the support and efficiency they require. This is why we decided to set up the Electronics Laboratory in Chupei."
"As process technology keeps evolving, it is necessary to adopt new materials to achieve new technology nodes. Also, the collaboration between companies is a must to overcome the increasingly strict challenges of process shrinking."
"In our global expansion plan, establishing the Electronics Laboratory in Chupei perfectly meets with our short, middle, and long-term business goals. Moreover, Avantor will keep developing critical materials, providing customized solutions, and enhancing supply chain reliability. We will make endeavors to be customers' long-term partner and create a win-win situation."
To celebrate the establishment of Electronics Laboratory, a mighty lion dance and beating drum performance was arranged, bringing a lively and exciting atmosphere at the ceremony. Officials from local and central governments, including Dr. Hwang Wang-Hsiang, Deputy Minister of Council for Economic Planning & Development, Hsu Ming-Tsai, Hsinchu City Mayor, Chiu Ching-Chun, Hsinchu County Mayor, and C.Y. Ling, Director General of Department of Investment Service, MOEA, also attended the event, expressing their welcome to Avantor's investment in Taiwan.
These honorable guests indicated that Taiwan plays a pivotal role in global semiconductor industry with great industrial clusters, talents, and infrastructures. They complimented that Avantor is making the right choice at the right time, in the right place, and wish companies in the industry can work closely to drive innovations and expand business opportunities.
During the Semiconductor Forum in the afternoon, Gilson also made a presentation on the topic of "From Taiwan to the World: Solutions for Industry Growth & Collaboration Challenges", further introducing Avantor, its Taiwan market expansion plan, and the technology center vision.
A company known for high-purity performance materials
The predecessor of Avantor is Mallinckrodt Chemicals, which was founded in 1867 to manufacture chemicals for the pharmaceutical industry. In 1995, the company was merged with J.T.Baker Chemical Company, which was founded in 1904 to manufacture laboratory chemicals of the highest purity, and renamed as Mallinckrodt Baker. Last year, Mallinckrodt Baker was acquired by an affiliate of New Mountain Capital and later changed its name to Avantor Performance Materials.
"The acquisition is just like a rebirth of the company," Gilson said, "Now, we have the resources and corporate support to achieve our vision; that is to create a leading global player in high growth specialty chemical markets including laboratory, pharmaceutical and microelectronics."
At present, Avantor has approximately 1,700 employees worldwide, with several highly respected brand names, including J.T. Baker, Macron, Rankem, Diagnova, and POCH. It has built decades-long relationships with over 10,000 customers. There are eleven global locations, including four manufacturing facilities with certified capabilities
"Avantor supplies very high purity materials. It's a promise from us," Gilson indicated, "With profound experiences in pharmaceutical industry, we are known for product quality, regulatory compliance, innovation, service, and advanced quality systems. We can work closely with customers to offer a wide variety of chemicals. In addition, we are very good at taking formula to make products for customers' special needs."
Regarding electronics industry, Avantor has over 25 years of experiences supplying advanced surface treatment solutions for semiconductor manufacturing, solar cell manufacturing, and flat panel display manufacturing.
Avantor's main products include FEOL and BEOL etching, post-etch residue removal, bulk photoresist removal, and FEOL cleaning for semiconductor manufacturing. As for photovoltaic manufacturing, there are pre-emitter and post-emitter surface modification, inline and batch process surface modification. Also, the photoresist removal for flat panel display manufacturing.
Reviewing the development of semiconductor industry, Gilson pointed out that when the industry migrated to 90nm, it was considered a big technology jump at that time. But it was only 7 to 8 years ago, now we are moving to 28nm era. To survive in the highly competing market, to lead the market is the key, or will lag far behind.
"Avantor focuses on surface treatment solution, which is a magic to high-yield manufacturing. As process node keeps advancing, using the same chemistries is not possible. Moving ahead, adopting new material is a must. Only chemistries can help you to get there."
The brand new Avantor will complete its offering of performance materials and chemistries through organic growth and acquisitions. In addition to expand manufacturing footprint, the company will also increase R&D spending 3X over historic levels, and adopt SAP Enterprise Resource Planning (ERP) to implement complete operational solutions.
Gilson emphasized, "We will leverage our improved global supply chain with localized manufacturing to serve the market better. We already invested in Poland and India to get cost-effective raw materials, and are actively investigating Asia/Pacific manufacturing resource."
"As a result, in terms of building supply chain, setting up Taiwan branch and the Electronics Laboratory is key to our strategic deployment, with the aim to offer one-stop shop services for customers in Taiwan."
To drive innovation through collaboration
"Taiwan has two of the world's largest foundries. Processes and tools are here to drive roadmaps and technologies. The answer is very obvious for us to have major investment in Taiwan," said Robert Ferguson, Executive Vice President of Electronic Materials and Northeast Asia, "Also, we can see great opportunity for productive collaboration and technology innovation here."
The new electronics applications laboratory is planned to open by the end of 2011, which will provide applications support to high-volume manufacturing customers, while furthering research and development. It will be used to conduct customer demonstrations, perform process of record (POR) development and support Avantor's global electronics technologies development.
"Our goal is to set up an all-in-one 'virtual fab' to support global customers more quickly with access to advanced 300mm process tools and latest generation metrology tools for customers. It's a unique way in the industry. In this lab, the combination of research and development, applications engineering and small volume manufacturing resources will speed collaboration with customers, leading to faster and more efficient technology development."
The lab will be equipped with full suite of state-of-the-art systems. Customers will be able to use the systems to test chemistries and materials in a class 100 clean room fab environment, rather than disrupting operations by taking their own production equipment off-line for testing purposes.
"Simply put, it's all about collaboration. We got to be close to our customers, rather than imagine their requirements from hundreds or thousands kilometers away," Ferguson stressed, "The investments aims to help customers achieve aggressive technology roadmap targets. We will move forward together with customers from providing high quality product, increasing performance and faster time to market, to achieve next generation advances."
Avantor is expanding staffing in Taiwan branch. According to Ferguson, "We have built a professional and passionate team. Also, along with our resources in China and Korea, we will be able to bring real-time support and service to customers in Taiwan and Asia. Either solving routine operational problems or joint developing new materials, we will be customers' best partner."
TSMC leads innovations to keep Moore's Law alive
Reviewing the progress of technology industry, Dr. Bing J. Shue, Senior Director of TSMC, said, "Starting from PC, the industry has been quickly moving towards consumer electronics with 3C or even 4C integrations. Now, as mobile computing is sweeping the planet, smartphones and tablets have replaced PC becoming the major computing devices. Moreover, the emergence of cloud computing will also bring radical changes to the industry."
He believed that the continuous paradigm shifts of the industry can benefit the IC industry at large. However, the increasingly demands for more functionality integrated in handheld devices have pushed the chip design trend from SoC to heterogeneous integration at product level. This will bring strict technical challenges for semiconductor industry.
"Take process shrinking as an example, 90nm node started in 2004, then moved to 65nm in 2006, 40nm in 2008. Now, 28nm is in mass production, and 20nm will be in pilot run next year. The design complexity and cost are getting escalating."
Even though challenge ahead, Dr. Shue is still optimistic, saying, "Semiconductor industry is good at coping with challenges. We have been overcome many difficulties that were considered impossible at first. Therefore, as Moore's Law is pushed to limit, leading semiconductor companies still be able to make challenges as their opportunities."
However, as design complexity and cost keep rising, only fewer companies can continue investments to drive the road map. And the gap between processing cost and design cost is getting bigger from 45/40nm. According to Dr. Shue, the cost for developing 20nm process may be up to USD 100M, and only mask cost will account for USD 10M. Therefore, the economical benefit that resulted from process shrinking is no longer valid. This is why TSMC needs to build 450mm fab, which will be a few years down the road.
The semiconductor industry has built an increasingly higher cost barrier. He estimated that there are 17 companies offering 65nm technology. The number is reduced to 13 in 45/40 nm node, and 6 in 32/28 nm node. Furthermore, the number will only be 3 in 22/20nm. Under this development trend, commitments, collaboration, and robust ecosystem are required to increase the success opportunity.
TSMC's capex this year is USD 7300M, leading other companies. Its 28nm begins to ramp up and 20nm is in test. It will adopt FinFET 3D transistor structure in 14nm node, and the roadmap for 10nm and beyond is also planned.
"From FinFET, 3D IC, to advanced lithography, we will enable more innovative technologies to achieve the future generation process advances," said Dr. Shue, "We need to establish a strong platform enabling the collaboration among different companies. With our OIP, Open Innovation Platform, we will co-work with customers and third-party vendors, including EDA/IP providers, to push the continuous development of Moore's Law."
The multi-platform stage: a new era for the Asian semiconductor industry
Colley Hwang, President of Digitimes, also spoke at the Forum, saying, "Shaky PC demands, emergence of new technology platforms, and the influences of emerging markets and China are the key topics in the ICT industry currently."
He pointed out, "It is undoubted that Asia will be the center of technology industry in the future. For example, China's PC market already surpassed the State, becoming the largest market in the world. And Taiwan plays an important role in the global ICT manufacturing."
There are 735 listed ICT companies in Taiwan, ranging from ICT manufacturing, semiconductor, optical, networking, components, distribution, IT service, and others. Their total revenue in 2009 was USD 312,794M, and the number increased to USD 424,581M in 2010, with annual growth rate 35.7%. It fully shows the strong ecosystem and infrastructure built in Taiwan.
In addition to the strong manufacturing capability in worldwide notebook market, Taiwan also plays an important role in Apple's iPad, in terms of components and manufacturing, such as touch panel, mechanism components, and assembly. According to Hwang, Taiwan already accounts for 88% of worldwide tablet shipment.
Therefore, behind those world-famous brand names, such Asus, Dell, HP, Lenovo, Samsung, Apple, and Acer, there is a huge ecosystem under the iceberg, covering from the upstream foundries TSMC, UMC, IC houses MediaTek, Realtek, components providers TPK, Catcher, distributors WPG, Synnex, to ODMs Quanta, Wistron, Hon Hai. The profound influences of Taiwanese technology makers can't be overemphasized.
However, as Wintel architecture no longer dominates and Apple sweeps the market, the profit and business models that tech vendors used to be familiar with have encountered huge challenges. "The overall values of products have expanded from patents, market share to manufacturing and ecosystem, which further demonstrates the importance of Asia," said Hwang.
He explained the reason why Samsung could be successful in the new era, saying, "The way Samsung leads the market is that they are brave to take the initiative to invest. Therefore, they can enjoy the benefits of being an early technology provider, and then take the advantages of cost reduction later on."
Hwang indicated, "Willing to take risk is the key to Samsung's success. In light of this, Taiwanese makers should reconsider their operational model and strategy, in order to leverage existing strong foundation and create a new wave of growth."
He stressed, "It's the end of Play Safe stage. Companies can't just develop one or two products and expect to earn long-term success. It is simply not enough. Platform strategy and thinking are required to gain the sustainability. As a result, Taiwanese companies should closely work with platform providers like Google, develop their own second core business, and strengthen application capabilities to have the long-term prospects."
At the end of the Forum, Gilson said, "Dr. Shue and President Hwang's talks further prove the key roles that Taiwan and Asian will play in the future technology industry. Avantor comes here for the ecosystem and collaboration opportunities. We sincerely hope that we could have great developments here and grow with Taiwanese companies together," wrapping up the full-day event with a perfect closing remark.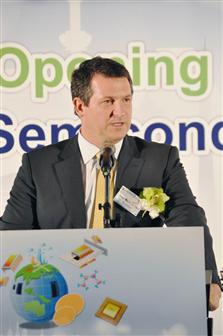 Jean-Marc Gilson, CEO of Avantor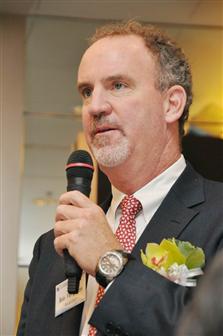 Robert Ferguson, Executive Vice President of Electronic Materials and Northeast Asia of Avantor
DIGITIMES' editorial team was not involved in the creation or production of this content. Companies looking to contribute commercial news or press releases are welcome to contact us.