China's LED industry under the 12th Five Year Plan
Jessie Lin, DIGITIMES Research, Taipei
China's focus on developing energy-saving and environmental industries under its 12th Five Year Plan promises to deliver a considerable boost to its LED industry. This DIGITIMES Research Special Report provides in-depth analysis on how each segment of China's LED supply chain, from the mining of rare earth elements to the implementation of LED streetlights will be affected.
Abstract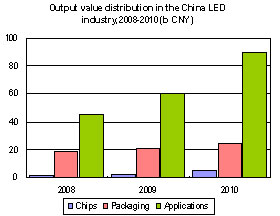 China's 12th Five Year Plan (12th FYP) for the 2011-2015 period is intended to address issues of both economic growth and energy consumption. Among the seven new key industries listed in the 12th FYP are "energy saving and environmental protection" and "new materials," both of which are closely connected with the LED industry. While China's LED industry in China is still in its initial phase of development, the considerable boost promised by the 12th FYP will ensure that the industry plays a major role in both GDP growth and reducing energy consumption.
The China LED industry is currently somewhat bottom-heavy in structural terms, with a large downstream sector matched with only a small upstream industry. This means that despite the fact that China-based firms lag behind Taiwan-based firms and the major international players in upstream sectors such as LED epitaxy technology, the potential for future growth remains enormous. The effect of the 12th FYP and associated subsidy policies is projected to lead to healthier and more comprehensive development throughout the entire LED industry in China.
The 12th FYP will also leverage China's considerable advantage in rare earth materials to promote the development of the LED phosphor sector in China. Following China's imposition of limits on rare earth exports and the quarter-on-quarter increase in the price of such materials, the issue of whether China opts to use rare earth materials as a strategic commodity to pursue technical partnerships with foreign companies will be one of the developments that is most worthy of close attention.
Table of contents