Computex 2011: Coby Electronics introduces 10-inch tablet PC
Press release, May 18; Jackie Chang, DIGITIMES
Coby Electronics, a US-based firm that produces consumer electronics, has announced the launch of new tablet PCs, the Coby Kyros series, available with 7-inch and 8-inch touchscreen LCDs and powered by Android 2.2 or 2.3, depending on model. A new 10-inch model featuring a touchscreen for advanced gesturing will also be launched later in May, according to Coby.
All models enable users to access the Internet through Wi-Fi and feature more than a dozen built-in applications. Among the included apps are an alarm clock, a browser for surfing the Web, calculator, calendar, email client, and multimedia players. In addition, the Coby Kyros tablets offer several pre-installed unique apps: Aldiko E-book for downloading and reading thousands of e-books, e-music for a collection of music and AppsLib for browsing, downloading and installing more apps.
The Coby Kyros models feature 4GB of built-in internal memory, expandable to 16GB or 32GB, dependent on model, 1GHz processor, (Wi-Fi 802.11 b/g) and HDMI support. Selected models feature a front facing camera and built-in microphone and speakers.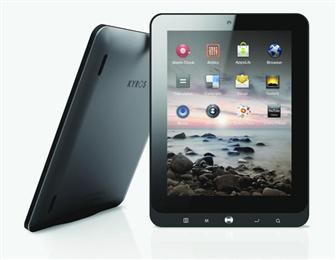 Coby Kyros 10-inch tablet PC
Photo: Company