Digitimes Insight: Global large-size panel shipments to grow 10.2% in 2Q11
Tony Huang, DIGITIMES Research, Taipei
Global large-size TFT-LCD panel shipments (9-inch and above, including tablet PC applications) are expected to reach 177 million units in the second quarter of 2011, up 10.2% sequentially, according to predictions based on data gathered by Digitimes Research.
The shipment growth is being driven mainly by demand for TV and tablet PC applications.
Taiwan makers will have an about 40% share of the global market by shipping 71.28 million large-size TFT-LCD panels, up 9.4% sequentially.
The panel industry is generally optimistic about LCD TV sales in the second quarter. Both LG Display and AU Optronics (AUO) expect their TV panel shipments to have a double-digit growth in the second quarter. Taiwan makers' monitor panel shipments will have stable growth in the second quarter, with both AUO and Chimei Innolux (CMI) likely to see 6-7% growth for the segment.
Growth of notebook panel shipments is slowing down, but AUO and CMI will both see shipments to the table PC segment grow over 200% in the second quarter.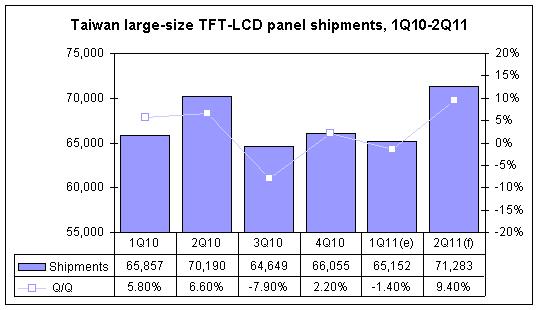 Source: Digitimes Rresearch, April 2011