MOEA presentation: Taiwan ICT industry update
Press release
Tuesday 12 April 2011
A presentation recently prepared for Taiwan's Ministry of Economic Affairs (MOEA) had been made available for publication. The presentation highlights business opportunities for companies from an Asian perspective.
For readers interested in accessing the original presentation, a link is provided at the end of the article.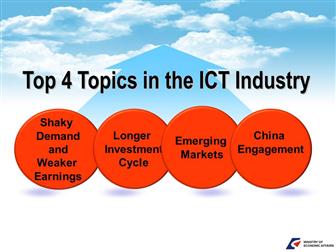 - The global ICT industry faces four main challenges.
- Events from the 2008 financial crisis to the 2011 Japanese earthquakes demonstrate that the market faces unstable demand.
- The global electronics industry is also faced with the problems of increasing oversupply and market concentration, leading to shrinking profit margins.
- Taking the display panel industry as an example, although many countries have tried to develop their panel industries, to date only Taiwan and South Korea have done so on a significant economic scale, but they nevertheless face overly long investment cycles and profitability issues.
- Emerging markets account for an increasingly large share of the global market; the US, Western Europe and Japan accounted for 75% of the global PC market 20 years ago, whereas today, emerging markets account for more than half of the PC market.
- Another major variable in the global technology industry is the rapid rise and increasing involvement of China; the China market accounts for a increasingly large share of the global market, with the country's economic development and accumulated investment power making it a key topic for the global technology industry.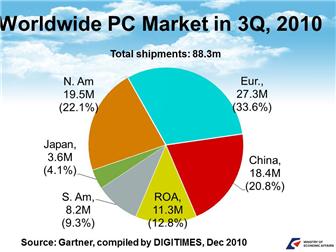 - More than 350 millions PCs were shipped in 2010.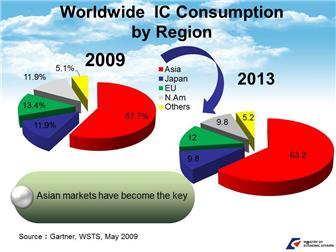 - As markets in the Asia Pacific region have developed rapidly, countries in the region have also come to play key roles in the electronics industry itself.
- In addition to notebook computers, which are produced almost 100% by Asia Pacific nations, countries in the region also play a vital role in everything from mobile phones to TV sets.
- Consequently, Asia Pacific nations excluding Japan already contribute some 57.7% to global IC components, a figure that is projected to continue to rise in the years to come.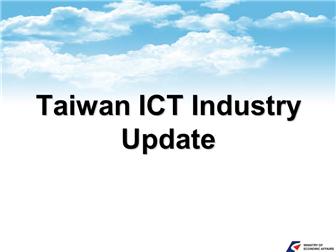 - Taiwan is an indispensable part of the global ICT industry
- Taiwan is at the forefront of industries including notebook computers, wafer contract foundries, IC encapsulation testing and IC design.
- The commercial opportunities created by large-scale manufacturing in Taiwan have been eagerly pursued by technology firms worldwide.
- The next few slides give an overview of the status quo for the industry in Taiwan, as well as the possible models for collaboration between global technology companies and Taiwan.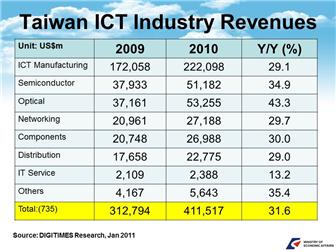 - Statistics from Digitimes show that Taiwan had a total of 735 listed electronics companies at the end of 2010.
- The total combined revenues of these companies in 2010 was US$411b, while the industry growth rate for 2010 was 31.6%.
- The ICT manufacturing industry, which is principally focused on the assembly and manufacture of products such as PCs and mobile phones, is the largest of the major industries, with total revenues of US$220b in 2010.
- The second largest industry is the optoelectronics industry, which mainly focusing on manufacturing upstream and downstream products for display panels, and was worth US$53.2b in 2010.
- The semiconductor industry, which covers areas including wafer foundries, encapsulation testing, IC manufacturing and IC design, was worth US$51.2b in 2010.
- In other fields such as network communications, general components and electronics distribution, Taiwan-based firms have not only generated enormous revenues within Taiwan itself, but have also actively moved into the Asia Pacific region, enabling them to become key partners for world-class companies.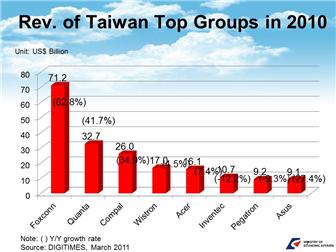 - ICT manufacturing-focused firms are the largest of Taiwan's electronics companies.
- Foxconn's revenues for 2010 were US$71.2b, making it the world's largest EMS firm.
- If FIH (Foxconn International Holdings), which is listed on the Hong Kong stock exchange, and Foxconn Group's other subsidiaries are added in, the figure rises to over US$100b.
- Other major firms including Quanta, Compal, Wistron, Acer and Inventec also have annual revenues in excess of US$100 billion, and are important partners for global giants such as Hewlett-Packard (HP), Apple and Dell.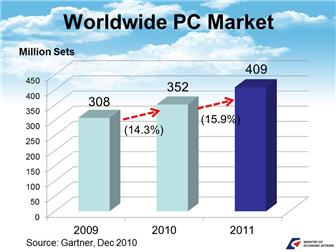 - Next generation electronics industries in Taiwan revolve around personal computers; Gartner estimates that the global PC market will expand from 350m units in 2010 to some 409m units.
- A growth rate of 15.9% is predicted.
- As tablet devices like the iPad continue to make inroads into the market, growth in the global computer market is likely to fall short of such optimistic forecasts in 2011; however, manufacturing systems for tablet computers are also highly dependent on Taiwan-based companies, and so changes in the market will have a very limited impact on Taiwan.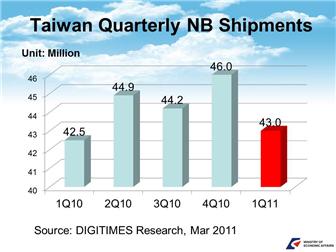 - Taiwan is the world's number one producer of notebook computers, and average monthly production has been known to exceed 14m units per month.
- Assuming that each unit requires components and materials worth US$400, Taiwan-based firms purchase nearly US$70.0b of such items globally each year.
- The booming notebook industry also provides an excellent foundation for the development of Taiwan's display panel and IC design industries.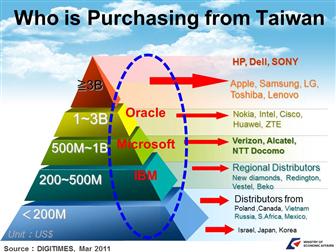 - The largest purchasers of products from Taiwan globally include HP, Dell, Sony, Apple, Samsung and Lenovo.
Among the ranks of new buyers which have become increasingly important in recent years are Nokia, NTT Docomo and Verizon, all of which buy network communications products from Taiwan and a number of major channel firms and electronics companies from emerging markets.
- Taiwan-based companies have also worked closely with firms such as Microsoft, Oracle and IBM to cater for international purchasing in a number of areas by setting up highly specialized supply chain (SCM) and ERP management systems.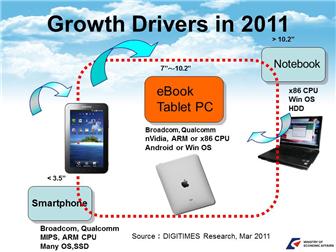 - Taiwan's electronics industry previously centered on notebook computers, but has undergone significant structural changes in recent years in response to the wave of enthusiasm for smartphones and tablet computers.
- Major global manufacturers eager to benefit from Taiwan's stable product chains have gradually handed over most of their smartphone and tablet production to Taiwan-based companies.
- This has given rise to a trend for major upstream component manufacturers to promote their key technologies in Taiwan.
- Taiwan has become a battleground for new technology, with Taipei's annual Computex computer show a already a key moment in the industry calendar.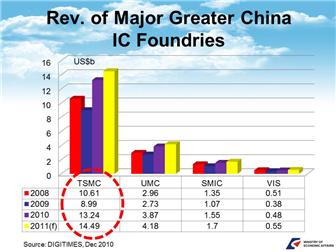 - Booming demand from the industry has helped Taiwan's IC design industry to flourish since the mid-1990s.
- The wafer foundry industry has also been a critical factor in the development of Taiwan's IC design industry.
- The world's two largest pure play wafer foundry firms are also both Taiwan-based companies, with TSMC alone accounting for nearly half of the global market.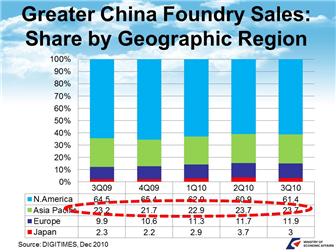 - According to analysis by Digitimes Research, North American IC design firms contribute roughly 61% of wafer foundry revenues.
- Asia Pacific nations' contribution has also exhibited strong growth in recent years.
- Taiwan accounts for approximately 21% of the global IC design industry, while China accounts for a further 9%.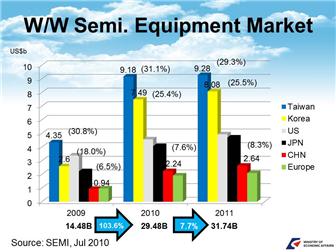 - As a result of Taiwan's burgeoning wafer foundry and IC manufacturing industries, Taiwan's key companies need to pour in large sums every year to update or invest in equipment.
- TSMC's 2011 capital expenditure will reach US$7.8b.
- Information from SEMI shows that total expenditure on semiconductor equipment from Taiwan was US$9.18b in 2010, with this figure set to rise to US$9.28b in 2011.
- Taiwan's semiconductor equipment demand is the world's largest, accounting for around 30% of the global market.
- Due to the importance of the Taiwan market, the world's most renowned semiconductor equipment firms have all established service centers or research centers in Taiwan.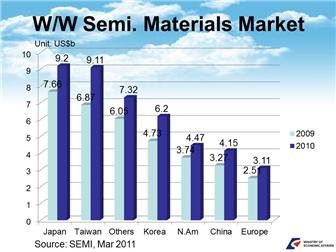 - Taiwan is the world's second largest semiconductor materials market after Japan.
- Taiwan's semiconductor materials market grew from US$6.87b in 2009 to an estimated US$9.11b in 2010, representing a growth rate of 36.2%.
- Barring any unforeseen circumstances, Taiwan will overtake Japan in 2011 to become the world's largest market.
- Taiwan also exerts a great deal of influence in the China market.
- Consequently, global upstream materials firms all maintain an active presence in Taiwan, from where they can serve the entire Asia Pacific market.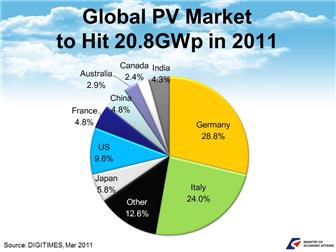 - The global solar photovoltaic (PV) market is projected to reach 20.8GWp in 2011.
- Germany and Italy collectively account for more than half of this market.
- Following the major earthquake in Japan, even more importance is likely to be attached to the green energy industry.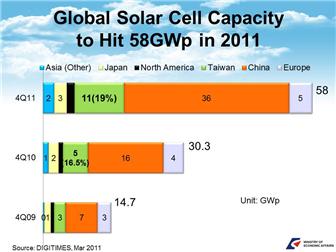 - China is currently the world's largest manufacturer of solar cells, followed by Taiwan in second place.
- Total global production capacity is projected to rise from the 4Q10 figure of 30.3GWp to 58.0GWp in 4Q11.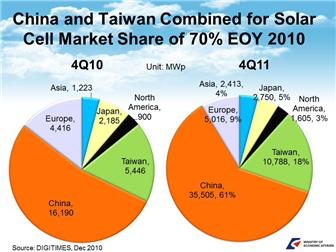 - China and Taiwan have been the most proactive of the various countries that are expanding production capacity.
- Taiwan's total capacity is projected to rise from the 4Q10 figure of 5,446MWp to 10,788MWp in 4Q11.
- Taiwan accounts for over 18% of total global capacity.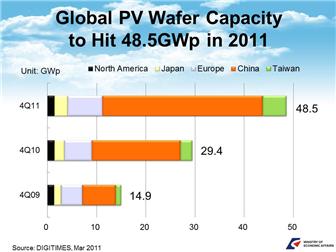 - As the global industry has gradually matured, the resulting pressure has led the Taiwan industry to move further upstream, with the silicon wafer industry also making rapid progress.
- China accounts for more than 60% of capacity in the major nations, but issues of over-investment have arisen.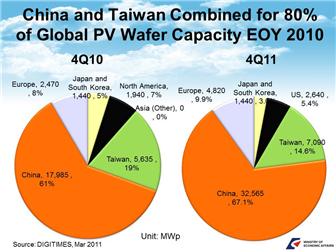 - Taiwan's total investment in silicon wafers will grow from 5,635MWp in 4Q10 to 7,090MWp in 4Q11.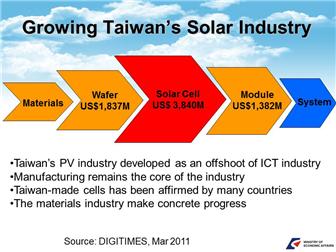 - Statistics on Taiwan's listed companies indicated that Taiwan's solar cell industry is already worth nearly US$4.0b.
- The solar PV wafer and module industries are also of considerable size.
- The Taiwan-based firms have generally opted to team up with companies in the individual countries for final assembly work.
- Capitalizing on Taiwan's edge in production management, which derives from its manufacturing industry.
To download the original powerpoint presentation, click here.