Prime Chemicals International highlights green solutions
Press release
Wednesday 30 March 2011
Green products, green materials and speciality chemicals provider Prime Chemicals International, which was established in 1992, has highlighted its commitment to protecting the environment.
The company focuses on providing green solutions for makers in the PCB, BGA, flip chip, LED, NMP, LCD, TP and PV sectors. It has three major product lines: Green Products, Green Materials and Speciality Chemicals.
Green Products
Green Products, which target the cooling tower system recovery and treatment, are cost-effective solutions to prevent the potential risk of factory shut-down, reduce waste water treatment cost, save energy, protect the environment by eliminating chemical additives. They are easy to use and maintain for green factories.
Green Materials
Green Materials, which are solutions for thermal conductivity and heat dissipation for LED-related processes and products, meet RoHS & halogen-free specifications. Primary products are thermal conductive coating, thermal conductive adhesive, ambient-curable silver conductive adhesive and white backlighting ink for LCD/LED panel and lamps. Green Materials are eco-effective solutions to totally address heat dissipation issues for green processes and product designs.
Speciality Chemicals
Speciality Chemicals meet the needs of surface chemistry, polymer science, metal surface, alloy etching, metal chemistry, green application and environmental protection. Primary products are pretreatment materials, brown oxide materials, black oxide materials, anti-foam, anti-oxidant, liquid/dry film stripper, etching regeneration system, environmental clean chemicals, fine lines quick etching, fine lines special stripper, ITO etching, glass etching, alloy/metal surface clean and treatment.
Prime Chemicals International is committed to offering professional, innovative and customized solutions to support clients' green factories. Please visit the company website: http://www.primepomat.com/. Or contact: sales@primepomat.com.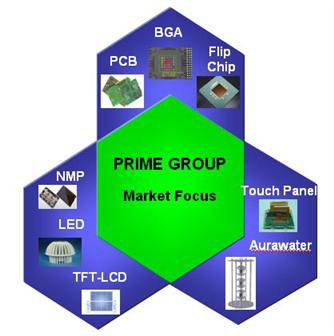 Prime Chemicals International's market focuses
Photo: Company