AMD releases dual-GPU Radeon HD 6990
Press release, March 8; Joseph Tsai, DIGITIMES
AMD has launched its latest dual-GPU graphics card, the Radeon HD 6990, supporting DirectX 11 and AMD's exclusive PowerTune intelligent technology to enable higher clock speeds and faster gaming.
The AMD Radeon HD 6990 can natively support up to five displays using AMD's Eyefinity multi-display technology, with six display support possible via DisplayPort 1.2 components available for purchase later this year.
The AMD Radeon HD 6990 graphics cards also feature a dual-BIOS toggle switch, allowing enthusiast gamers to unlock the card and rev up the clocks and voltages for even more performance; as well as AMD's HD3D technology, providing a cutting-edge stereoscopic 3D gaming and movie experience with HDMI 1.4a support.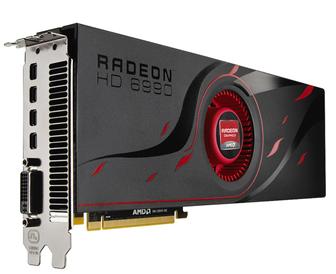 AMD dual-GPU Radeon HD 6990 graphics card
Photo: Company