AzureWave to unveil lineup of high-performance 3G products and world-recognized Android software development for evolving mobile Internet market at 2011 MWC
Press release
Monday 14 February 2011
AzureWave Technologies, a leading wireless module supplier, will make its appearance at the Mobile World Congress (MWC) this year, to debut its lineup of 3G products and sophisticated Android software development achievements for the promising mobile Internet.
AzureWave possesses strong relationship with major chip vendors in the world and has proven capability in integrating different chips and packaging multiple ICs into one single small module for mobile and embedded devices. The company's low power consumption design can also extend the mobile device's battery life without sacrificing performance.
The advantage of such a business model is that AzureWave is capable of providing a module IC with the strongest combination available on the market, offering the best possible, cost-effective, customizable, and time-to-market solutions to its clients.
Attending the MWC show for the third consecutive year, what is more noticeable is that AzureWave will be showcasing for the first time its fresh new 3G products designed for the mobile Internet device market.
Catering to the global booming mobile market where numerous smart devices such as tablets and smartphones are being introduced since late 2010, plus the inevitable rising demand for faster speed in data communication, AzureWave is taking the advantage of its strong expertise in wireless technologies integration, to build a brand-new 3G product line for enabling a true wireless mobility experience.
AzureWave is showcasing at the MWC its complete series of 3G products including a uniquely-designed, micro-sized 3.5G HSPA dongle router and the world's smallest 3.5G HSPA tri-band mobile router, enabling high speed wireless Internet access from virtually anywhere with any WiFi-enabled device. Aside from the innovative router products, AzureWave has utilized its core competence in wireless technologies integration as well as module manufacturing capability, to introduce at the same time the 3.5G mini-card module for embedded laptops and tablets. AzureWave has readied its 3G products for WCDMA and CDMA2000 networking systems, offering blazing fast download speed at up to 21Mbps peak rate.
At MWC 2011, the company will also showcase its latest four-in-one wireless module IC, which integrates Wi-Fi, Bluetooth, FM and GPS capabilities into one SiP (system-in-package) module. The highly integrated module IC, with low power consumption and complete software support, will allow users of any mobile and smart device to have an expandable and rich wireless experience.
In addition to designing and manufacturing module ICs, AzureWave has also been working on software development ever since it was founded. It has already been transformed into a DMSS (design, manufacturing and software supporting service) provider that provides its clients with complete and customized software services.
AzureWave has strong R&D resource devoted to software development that enables the company's module ICs to support all available operating systems on the market including Android, Windows Mobile, Linux and others. The company even sponsored an open platform development team "0xlab" which concentrates on bringing together the Android's open software and hardware industrial design.
The main objective for 0xlab is to assist Taiwanese design and manufacture industries to understand and efficiently utilize the open platform like Android, therefore reducing the period of research and development, and bring the best and competitive products to the market.
0xlab is excellent in hardware/software integration, and is dedicated to provide turn-key solution for mid/entry-level Android-based phones by adjusting related firmware, porting drivers and ensuring best performance turning. The team is also capable of designing value-added services such as customized user interfaces (UI) for clients as well as providing assistance concerning software. The impressive contribution from the team has been recognized in the open source world as "Top 10 contributors to Android" - ranking committed since Froyo (Android 2.2) release - making its sponsor AzureWave more competitive over its rivals on software development.
As for the wireless entertainment/computing sector, AzureWave also has several new products and technologies, such as wireless modules that support 802.11ac and 802.11ad standards. For the 802.11ac/ad wireless modules, AzureWave has recently teamed up with Israel company Wilocity to develop Pre-WiGig solution that supports 60GHz frequency band, which features data transmission rate of up to 7Gbit/s, over 10 times faster than the highest 802.11n Wi-Fi. The company believes such technologies will start taking off later this year or in 2012 as demand for wireless entertainment picks up.
AzureWave has also been working aggressively for wireless display (WiDi-like) technology, which allows HD media transmission from PC/NB or game consoles to HDTV wirelessly. The company is already in cooperation with several TV brand vendors for them to integrate AzureWave's wireless products into their latest TV products. AzureWave is also working on new technology to allow wireless media transmission between smartphones and TVs and the technology is expected to be a focus at the MWC 2011 show.
After several years of hard work, the company has successfully cut into the supply chain of Top-5 smartphone brand vendors and the company is currently shipping its wireless module IC products to most of Taiwan's DMS/EMS providers as well as ODM/OEM players that manufacture smartphones. AzureWave is one of the largest suppliers for the Taiwan market.
In addition to smartphones, AzureWave expects that strong tablet PC shipments from smartphone and PC vendors in 2011 will significantly boost their demand for wireless modules and the company has already started cooperating with several PC-based vendors for their tablet devices.
In the future, the company will continue to focus on its wireless module IC business since the overall wireless connectivity industry is still growing rapidly. And with most of the consumer electronics products set to be providing wireless connectivity, AzureWave believes the business will continue to contribute strong growth to the company in the next 3-5 years.
For more information about AzureWave Technologies, please check their website at http://www.azurewave.com/.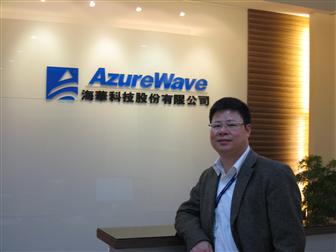 Ted Lee, CEO and president of AzureWave Technologies
Photo: Joe Tsai, Digitimes, February 2011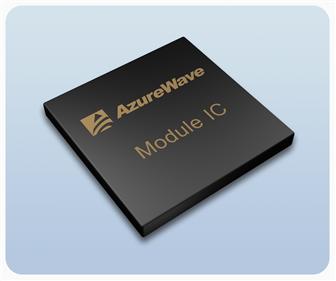 AzureWave wireless module IC
Photo: Company
DIGITIMES' editorial team was not involved in the creation or production of this content. Companies looking to contribute commercial news or press releases are welcome to contact us.