CES 2011: Intel announces new Core processors
Press release, January 6; Joseph Tsai, DIGITIMES
Thursday 6 January 2011
Intel has introduced its second-generation Intel Core processor family at a press conference at the Consumer Electronics Show (CES) 2011. Intel highlighted several new features, services and partnerships that combine to deliver a new visual experience with processor graphics built in. More than 500 desktop and notebook PCs are expected from all major brand vendors worldwide throughout the next year, the vendor said.
New features include Intel Insider, Intel Quick Sync Video, and a new version of the company's Intel Wireless Display (WiDi), which now adds 1080p HD and content protection for those wishing to beam premium HD content from their notebook screen to their TV. The company also revealed working with CinemaNow, Dixons Retail plc, Hungama Digital Media Entertainment, Image Entertainment, Sonic Solutions, Twentieth Century Fox Home Entertainment, and Warner Bros Digital Distribution.
The second-generation Intel Core processor family is the first visibly smart microarchitecture to combine visual and 3D graphics technology with performance-leading microprocessors on a single chip, the company said. Incorporating the newly architected Intel HD graphics on each 32nm die enables significant graphics performance improvements over previous-generation graphics for both HD media processing and mainstream gaming. The chips improve performance and yet still offer great battery life and the ability to design thinner, lighter and more innovative notebook and all-in-one PCs.
New processor graphics technology will focus on the areas where most people are computing today: high-definition (HD) video, photos, mainstream gaming, multi-tasking and online socializing and multimedia. Enhanced visual technologies such as next-generation Intel HD graphics are built into every second-generation Intel Core processor. For consumers, this means improved PC experience, with better overall power management, greater efficiency and great battery life, Intel said.
Additionally, a new feature of the next-generation PC and notebook processors, Intel Insider, will give consumers access to movies on their PCs in full high-definition that were not available before.
Warner Home Entertainment Group president Kevin Tsujihara explained that Warner Bros sees the PC as one of the most broadly available and versatile platforms for delivering premium digital entertainment, and now that Intel has made it more secure, the company is able to provide new releases and popular catalog titles in full HD to the PC through its WBShop storefront and from partners like CinemaNow on the same day as DVD and Blu-ray releases.
Building upon this Intel Insider innovation, Eden then showed how consumers can now also use Intel WiDi 2.0 to beam content to their big-screen HDTVs. Additional Intel WiDi 2.0 improvements include support for 1080p HD as well as protected content either streaming from the Internet or played locally from a Blu-ray or DVD player.
Another element of the visual experience built into the second-generation Intel Core processor family is Intel Quick Sync Video. This built-in hardware acceleration takes the wait out of editing and sharing videos with astonishing performance that completes in minutes what used to take hours, Intel said. Intel estimated that a 4-minute HD video that used to take four minutes to convert to play on an iPod would now take just 16 seconds.
The Intel Core i3, i5 and i7 processors also include the enhanced Intel Turbo Boost Technology 2.0. This feature automatically reallocates processor core and processor graphics resources to accelerate performance, giving users an immediate performance boost when and where it is needed.
Other new chip features include Intel Advanced Vector Extensions (AVX), Intel InTru 3-D, and Intel Clear Video Technology HD. Intel InTru 3-D enables immersive stereoscopic 3D to 3D-capable HDTVs or monitors via HDMI 1.4.
Intel AVX increases performance for such demanding visual applications as audio processing and professional video image editing such as stitching together multiple photographs. Intel Clear Video improves the visual quality and color fidelity during video playback for a spectacular screen experience.
The chips are made on Intel's 32nm manufacturing process on the company's second-generation high-k metal gate transistors. These unique advantages further boost performance, reduce power consumption for better battery life and smaller designs, and lower overall manufacturing costs, it said.
Intel announced more than 20 processors, wireless adapters and chipsets, including new Intel Core i7, i5 and i3 processors, Intel 6 series chipsets, and Intel Centrino WiFi and WiMAX adapters.
The quad-core-based systems will be available on January 9 with additional dual-core versions in February.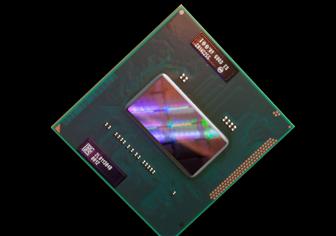 Intel new Sandy Bridge-based Core processor
Photo: Company