Nvidia announces GeForce GTX 580
Press release, November 10; Joseph Tsai, DIGITIMES
Wednesday 10 November 2010
Nvidia has announced the latest consumer GPU based on the Fermi architecture, the GeForce GTX 580, which has been re-engineered from the transistor-level up to deliver increased power efficiency and performance over previous generation products.
The GeForce GTX 580 GPU delivers the world's fastest performance for DirectX 11 games, and support for Nvidia 3D Vision, Surround, PhysX, SLI and CUDA technologies, further entrenching GeForce-based PCs as the most robust gaming platforms in the world, Nvidia claimed.
The combination of an innovative vapor chamber thermal solution and new architectural enhancements make the GTX 580 the fastest and quietest GPU in its class, delivering an increase of up to 35% in performance per watt, and performance that is up to 30% faster than the original GeForce GTX 480, Nvidia noted.
For the most recent games that feature tessellation, the key feature of DirectX 11, the 512-core GeForce GTX 580 is up to 160% faster than the closest competitive product. Even in previous-generation DirectX 9 and 10 games, the GeForce GTX 580 is faster by up to 62%, Nvidia added.
With full support for Nvidia 3D Vision and Nvidia Surround technologies, the GeForce GTX 580 GPU also provides the graphics horsepower and video bandwidth needed to experience games and high-definition Blu-ray movies in stereoscopic 3D on a single display or spanning across three screens for an immersive gaming environment. And with Nvidia SLI technology, gamers will be delighted by the sheer increase in gaming performance by adding a second or third GeForce GTX 580 to their PC.
The GeForce GTX 580 is available from the company's add-in card partners including ASL, Asustek Computer, Colorful, Elitegroup Computer Systems (ECS), EVGA, Gainward, Galaxy, Gigabyte Technologies, Innovision 3D, Jetway, Leadtek, Micro-Star International (MSI), Palit, Point of View, PNY, Sparkle and Zotac.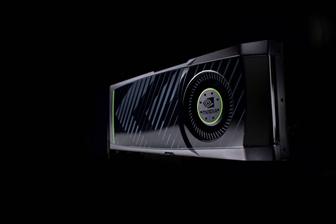 Nvidia GeForce GTX 580 graphics card
Photo: Company