DTF Taiwan LED Supply Chain Technology Forum: The development for cross-strait lighting standards and product certification platform
DIGITIMES staff, Taipei
Thursday 21 October 2010
LED lighting applications are gaining popularity, but a lack of standards is hampering their development in the industry. The DTF Taiwan LED Supply Chain Technology Forum invited Jay-San Chen, director general of the Bureau of Standards, Metrology and Inspection (BSMI) under Taiwan's Ministry of Economic Affairs (MOEA) to give a talk on the issue of LED lighting standards. Chen also revealed his related experiences in China and current cross-strait communication on the subject.
Firstly, Chen talked about the LED lighting industry in Taiwan. The MOEA has introduced a green energy industry program. Its goal is to make Taiwan the leading LED light source and module supplier and create 54,000 new jobs. Hopefully, by 2015, the production value of the industry will reach NT$540 billion. In the first half of 2010, the industry generated NT$77 billion in revenues, which is equivalent to 80% of the total revenues in 2009. We expect that the total revenues of 2010 will reach NT$170 billion, with a 79% growth.
China's LED lighting industry is heavily subsidized by its government under the 11th Five-year Plan, which allocated 1-1.5 billion yuan for the industry. In addition to the subsidies, the government also helped to set up production bases for semiconductor lighting and removed the non-tariff obstacles. At the same time, it also launched the Lighting Engineering and the 10 Cities with 10,000 Lights projects. It is expected that the above policies will generate 500 billion yuan in revenues and total export value of US$30 billion, and create one million jobs.
As for LED lighting standards, Taiwan is working on 21 new standards and amending another. These include three standards for light sources; three for lighting devices; one for photobiological safety; 12 for components and modules; and two for key components. The priority is given to the standards for light sources, lighting devices and photobiological safety, followed by components and modules. The one being amended is CNS 15233 for "LED street lamps," and the revision has been passed and will be announced soon. We hope to gather opinions from the industry during the process of making the standards.
The CNS 15233, first announced in December 2008, was the first LED street lamp standard in the world. We expect that the national standards for AC LED issued in 2010 will also be the first in the world. CNS 15233 has also been listed as an item under the CNS certification program, and the LED street lamps made by Everlight Electronics has been granted the CNS logo.
In China there are 54 standards for LEDs and 45 for LED lighting. There are 28 national standards, and 71 industrial or local standards. Although it seems that China has more standards than Taiwan, most of them are on industrial levels, which are not as strict as national ones.
Taiwan and China have started communication on LED standards. In the fourth meeting between their envoys, Taiwan and China agreed to jointly build a set of cross-strait mechanisms concerning standards, metrology and certification. They will cooperate in five areas: standards, metrology, inspection, certification, and consumer product safety. The MOEA's Bureau of Standards, Metrology and Inspection and China's General Administration of Quality Supervision, Inspection and Quarantine will be in charge of the work.
A symposium on cross-strait certification and standards was held in Chengdu, China in July, 2009. China suggested setting up a self-evaluation certification system, and the four group discussions were organized during the symposium to touch on the issues of LED standards, LED evaluation, LED terminology, and LED certification technology. In the coming future, both parties will exchange information regularly and have closer communication. In March 2010, another symposium was held in Fuzhou, China, focusing on the issues of energy saving and new energy. The main themes were 3D displays and photovoltaics (PV). But issues concerning LEDs are expected to be included in the future.
A comparison of CNS 15233 and China's GB/T 24827 for street lamps will show that they are similar in performance levels, safety requirements, power factors, protective enclosure levels, vibration and electromagnetic compatibility. The major differences are the standards for temperature cycling (not regulated in China), surge protection, endurance and beam maintenance rate.
We have started our cooperation on cross-strait LED product tests, and signed a letter of intent with the Xiamen China National Center for Quality Supervision and Test of Semiconductor LED. We have begun trial runs for semiconductor LED lighting projects. Moreover, we are working with the National Lighting Test Center in Beijing to study and compare LED street lamps' optical and electrical properties. Civilian cooperation has been handled by the Industry Technology Research Institute (ITRI) and the Lighting Association, and they have made a lot progress in different fields since 2006.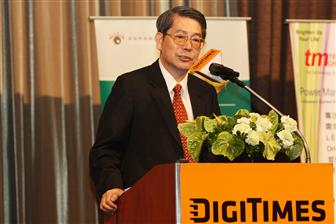 Jay-San Chen, director general of BSMI
Photo: Digitimes, October 2010