Apple reinvents notebooks with new MacBook Air
Press release, October 21; Joseph Tsai, DIGITIMES
Apple has unveiled an all new MacBook Air, the first of a next generation of notebooks which will replace mechanical hard disks and optical drives with Internet services and solid state flash storage.
Available in 11-inch and 13-inch models and weighing as little as 2.3 pounds, the new MacBook Air is Apple's lightest and most portable notebook. MacBook Air uses the same solid state storage technology as iPad to deliver instant-on responsiveness, up to seven hours of battery life and up to 30 days of standby time.
With its precision aluminum unibody enclosure, the new MacBook Air measures 0.11-inches at its thinnest point and 0.68-inches at its thickest, and weighs just 2.3 pounds for the 11-inch model and 2.9 pounds for the 13-inch. Like iPad, MacBook Air was designed from the ground up to use flash storage exclusively. Apple's custom-designed flash storage is 90% smaller and lighter than a conventional notebook hard drive, contributing to MacBook Air's mobile, featherweight design. MacBook Air's flash storage also provides faster data access and is more reliable than notebook hard drives due to its solid state design.
MacBook Air features a full-sized keyboard for typing comfort and productivity, as well as the highly acclaimed glass Multi-Touch trackpad found on Apple's MacBook Pro, so you can scroll through web sites, flip through photos, and resize or rotate images all from the trackpad. The built-in FaceTime camera, mic and stereo speakers are perfect for video calls with iPhone 4, iPod touch and other Macs.
Flash storage combined with power-efficient Intel Core 2 Duo processors and Nvidia GeForce 320M graphics delivers an ideal balance of mobility, battery life and performance. MacBook Air features an 11.6-inch or 13.3-inch high-resolution LED-backlit display and Mini DisplayPort to connect your 27-inch Apple LED Cinema Display, projector or HD TV. Ultra-fast 802.11n Wi-Fi networking allows you to download music and movies from iTunes, back up data to Time Capsule and store or share files with MobileMe and iDisk. MacBook Air includes Bluetooth 2.1+EDR for wireless peripherals and two USB ports making it easy to sync and charge an iPad, iPhone or iPod while using another device. The 13-inch MacBook Air also includes an SD card slot.
Apple uses advanced chemistry and Adaptive Charging technology to create a MacBook Air battery that delivers up to seven hours of wireless productivity on a single charge and up to 1,000 recharges. The built-in battery design results in less waste, and depleted MacBook Air batteries can be replaced for US$129, which includes installation and disposal of your old battery in an environmentally responsible manner.
Every Mac comes with Mac OS X Snow Leopard and iLife, Apple's suite of applications for creating and sharing photos, movies and music.
The 11-inch and 13-inch MacBook Air are immediately available through the Apple Store, Apple's retail stores and Apple authorized resellers. The 1.4GHz 11-inch MacBook Air with 2GB of memory and 64GB of flash storage starts at a suggested retail price of US$999 with a 128GB model for US$1,199. The 1.86GHz 13-inch MacBook Air with 2GB of memory and 128GB of flash storage starts at a suggested retail price of US$1,299 with a 256GB model for US$1,599. Configure-to-order options and accessories include faster processors, 4GB of memory, MacBook Air SuperDrive and a USB Ethernet Adapter.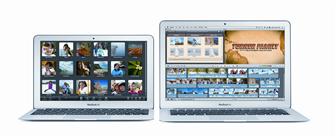 Apple new 11-inch and 13-inch MacBook Air notebooks
Photo: Company