Triple network convergence expected to give China economy US$100 billion boost
Press release, DIGITIMES, Taipei
Tuesday 14 September 2010
Taipei, Taiwan, September 14, 2010 – Triple network convergence in China is expected to induce investment and consumption totaling about 688 billion yuan (about US$102 billion), according to a recent DIGITIMES Special Report titled "Network convergence in China: Government policy and market effects."
The report indicates triple network convergence will stimulate development in the equipment manufacturing industry and information services industry, to the tune of 688 billion yuan of investment and consumption in the next three years, including 249 billion yuan for the construction of the IT service system for video content and 439 billion yuan for IT services and final end-user consumption. It will also create 200,000 job opportunities.
The Chinese government has actively been pushing for the convergence of the country's three big networks - the Internet, telecom networks, and TV broadcasting networks - via various measures, most notably through the Triple Network Convergence Policy it laid out early in 2010. While the Triple Network Convergence Policy reiterates many government policies set out previously, one area that is expected to have significant effects on the market is the government's step to grant permission for TV broadcasting firms and telecom carriers to enter and do business in each other's realms.
This DIGITIMES Research Special Report examines China's Triple Network Convergence Policy from a macro and micro point of view. In addition to outlining triple network convergence details, DIGITIMES Research analyzes the effects the promoted policies will have on players in China's telecom and broadcast industries.
The report also highlights the business opportunities and challenges triple network convergence will have on the development of services such as broadband, IPTV, connected TV, mobile TV, and future physical network infrastructure, among other areas.
State Council's push for accelerated triple network convergence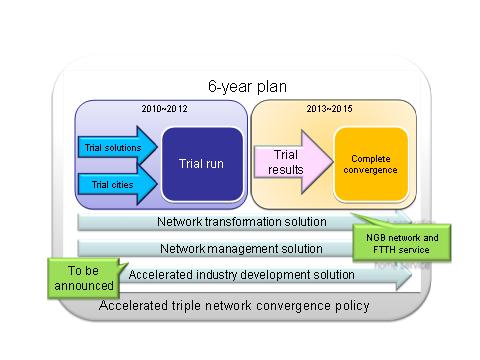 More information about the report
Questions addressed in the report
Who are the key players in China's telecom and TV broadcast industries and how will Triple Network Convergence Policy affect their future business development?
How has conflict between SARFT and MIIT, the respective government bodies charged with regulating China's broadcast and telecom industries, shaped the current market for converged network services, and how will Triple Network Convergence Policy change the dynamic between these two bodies?
What are the barriers for telecom carriers in starting an IPTV business in China, and how will these challenges be overcome under triple network convergence?
How will triple network convergence in China affect development and investment opportunities for services including mobile TV, connected TV and cable TV broadband access?
What are the expected business opportunities in various provinces and local markets under triple network convergence in China?
About DIGITIMES Research
DIGITIMES Research is the research arm of DIGITIMES Inc., Taiwan's leading high-tech media outlet. Operating as an independent business unit, DIGITIMES Research focuses on monitoring key high-tech industries, while also guiding clients toward suitable new business as well. Market intelligence and analysis is provided to more than 1000 corporate customers worldwide. Research and consulting services cover a full range of industries, including information and communications technology (ICT), flat panel display (FPD), renewable energy and semiconductor design and manufacturing.
Contacts
Michael McManus (Michael.mcmanus@digitimes.com)
Sylvia Wu (Sylvia.wu@digitmes.com)