Strontium unveils new logo
Press release, Staff reporter, DIGITIMES, Taipei
Monday 30 August 2010
Strontium Technology unveiled a new corporate logo and brand identity during a forum held at Bali in Indonesia from August 13-16. The new logo and corporate identity are aimed at making Strontium brand more recognizable for end-consumers.
"The new logo will help our consumers to connect with Strontium brand at emotional level too," said company CEO Anshuman Gupta. "Strontium will continue to provide major brand chipset memory products at competitive prices to our markets."
The new logo and Corporate Identity was the result of a three-month long design process, where employees and consumers worldwide were asked for their inputs. The findings resulted in a logo that is more eye-catching and has a life to it. Along with the new logo, the product presentation has also been changed completely.
The distributors were excited to see the new brand identity. "The new brand design is very eye catching. It will surely help Strontium sell well on the retail front," said Rajesh Attal from Kaira Technologies, Singapore.
In addition, Vivian Singh, director of Strontium Taiwan, commented that "DRAM prices are going to be at current levels for a while longer as enough supply will continue to be there for the rest of Q3 and Q4."
"Overall flash market is expected to be in balance or slight oversupply for rest of the year except some low density flash and specific applications which need only MLC flash may see some shortages," Singh added.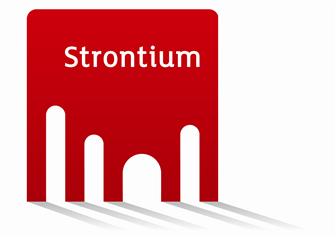 Strontium's new logo
Source: Company