Impression: The rise of e-book readers and 3D TVs?
Rodney Chan, DIGITIMES, Taipei
Monday 7 June 2010
I can't say I was too impressed by the display gadgets shown at the just concluded Computex 2010. Actually I didn't expect much before going to the show.
E-books generated much hype, and this year there was an E-Reading Pavilion at Computex. But there was hardly any surprise. Most e-book readers at the show were still black and white, while response time and colors remained major issues.
There was one Aiptek color e-book reader. The colors look good, but the form factor is meant for the children's market.
Delta Electronics also exhibited a color e-reading device: the 13-inch e-Magazine. But the color saturation was very disappointing. I overheard a Delta representative explaining the device to a potential buyer. The representative admitted the color saturation was low, but suggested business professionals would not mind. If I were a company VP reading Times on the e-Magazine, I would still love to see vivid colors apart from the texts. Well, I don't really know, as I'm no company VP.
E-Ink would have to make breakthroughs in developing color solutions in order to maintain its dominance in the future. Competitors could be catching up fast in the e-book reader market if they manage to roll out decent color solutions.
Another focus for display products was of course - you guessed it right - 3D solutions. Any surprises? You're right again - not really.
But improvements could be seen in naked-eye 3D solutions. Teco exhibited a 46-inch 3D screen with lenticular lens. The 3D images were quite clear and vivid. The viewing angle was limited to 60 degrees around the center, but that would still be good enough for a public signage.
Both 3D displays and e-book readers have one crucial factor in common - content. Every e-book reader vendor offers content solutions in one way or another by teaming up with publishers. This really is giving momentum to the market.
In contrast, there aren't too many 3D movies on the market. Unlike e-books, which can be made from digitizing existing print publications, 3D content is much more expensive and difficult to make. You wouldn't want to watch "Avatar" (yes, "Avatar" - the name that's mentioned in almost all discussion on 3D) over and over again on your expensive 3D TV.
You may create your own 3D content. Aiptek has unveiled a digital camcorder that can shoot 3D home videos. But it would take much more than home videos to boost the 3D market.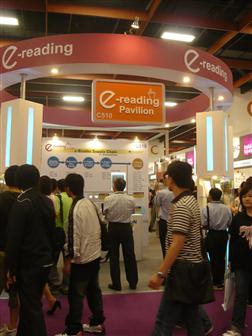 E-Reading Pavilion at Computex 2010
Photo: Rodney Chan, Digitimes, June 2010