Computex 2010: Transcend, PQI highlight USB 3.0 storage devices
Jessie Shen, DIGITIMES, Taipei
Wednesday 2 June 2010
At Computex Taipei 2010, memory module makers Transcend Information and Power Quotient International (PQI) are both showcasing their latest USB 3.0 personal storage devices.
Transcend said its StoreJet 25D3 2.5-inch portable hard drive has passed the USB-IF Test Procedure for SuperSpeed products. The StoreJet 25D3 delivers data transfer rates of up to 90MB/s - at least 2.5X faster than USB 2.0 models, when used with a USB 3.0 expansion card or a USB 3.0-compatible motherboard, according to the company. The device is available in capacities of 500GB and 640GB.
Transcend is also highlighting its new 2.5-inch SATA SSD, which supports up to 512GB capacity. The device uses an advanced controller chip that enables a maximum sequential read speed of 240MB/s and 200MB/s write, outperforming its predecessors by 60% and 120%, respectively.
Meanwhile, PQI is presenting a series of USB 3.0 personal storage devices - HDD H566, SSD S533-E, UFD U368, and UFD U339V - that are designed to meet various market demands. The UFD U339V weighs less than 13g, making it the lightest USB 3.0 flash drive on the market, PQI said.
In addition to SuperSpeed USB products, PQI has unveiled a 64GB SDXC card compliant with the SD 3.0 specifications. PQI claimed the speed of its SDXC card supports a Class 4 data transmission speed.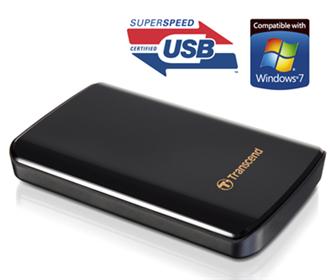 Transcend StoreJet 25D3
Photo: Company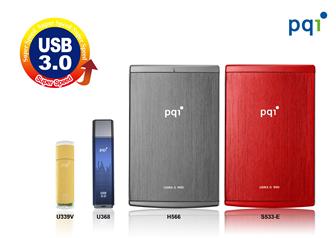 PQI USB 3.0 storage devices
Photo: Company