Computex 2010: Waltop showcasing pen solutions
Press release, staff reporter, DIGITIMES, Taipei
During Computex Taipei 2010, leading pen touch solutions provider Waltop International will be showcasing its full product lineup, ranging from USB/wireless tablets to specialized components such as an ultra-thin resistive PCB modules for e-book/e-reader solutions, and a transparent capacitive touch-screen panel and ASIC for LCD monitors and tablet PCs.
The company pointed out that for educators, Waltop products are the ideal choice to meet the growing demand for interactive learning environments. Waltop's Interactive Whiteboard and Tablet Monitor can be used individually or in combination to give improved interaction and enhanced e-learning efficiency.
Waltop can also help business users bring a new dimension to their presentations. Using the company's Wireless Tablet and other presentation devices, interaction with an audience and the exchange of ideas can be made better and clearer. For business travelers, the company has also developed a light-weight bendable tablet that can be carried effortlessly.
Another major product line for Waltop is its graphic tablets, the Sirius Tablet and Venus Tablet, which allow graphic designers a more comfortable working experience and better productivity. The company's graphic tablets use battery-free technology, and feature high-resolution output, excellent pressure sensitivity and customizable express keys, as well as being reversible for easy use by both left- and right-handed users.
Over the past few years, the e-book industry has shown significant growth, and many e-reader manufacturers are looking for ways to increase the functionality of their products, with handwriting recognition, wireless connection, color displays, etc. Although it has posed some technical challenges, Waltop believes its Natural-Input Technology is the best solution on the market to help solution providers differentiate their products.
For tablet users, Digital Pen has replaced the mouse and provided users with a natural and intuitive input method. Waltop noted that its product lines incorporate a variety of special functions designed to meet the specific needs of people working in business, graphic design and education, and its Pen Touch modules are used by e-book reader makers and tablet PC makers across the industry.
Visitors can find out more about Waltop products by visiting booth numbers D618, D620, D717, D719 on the first floor of TWTC Hall 1 under the Peripherals & Accessories section and also booth C436 at Computrend in the Touch Pavilion.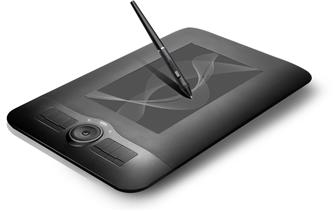 Waltop products target a wide audience including educators, business users and graphic designers
Photo: Company