Computex 2010: Fortrend presents value-added multi-touch projected capacitive touch panels
Press release, staff reporter, DIGITIMES, Taipei
Wednesday 2 June 2010
Fortrend, a leading manufacturer of projected capacitive touch panels, is presenting its latest solutions to assist partners develop products with even higher value during Computex Taipei 2010. Fortrend will be highlighting its hard coating solution for making panels stronger, as well as other solutions that target outdoor use or industrial environments.
The company pointed out that even if users are careful about taking care of their CE products, accidents occur and devices are dropped and break. It is a common occurrence, as is the fact that it is easy for displays on electronic devices to get dirty. Therefore, Fortrend has introduced a variety of treatments, including a treatment for hard coating that improves a touch panel's strength to 9H compared with 7H for regular touch panel glass. The stronger the glass is the higher protection, Fortrend stated.
To make displays easier to use for reading, Fortrend also offers a solution that is treated for anti-glare and anti-reflection, allowing system providers to offer products that are more enjoyable to read and can be used in more environments, such as outdoors in bright sunshine.
As for customers in the IPC industry, Fortrend stated it offers anti-fog treatments for maintaining a clear screen in environments where temperatures fluctuate. Its anti-stain treatment also keeps products from smudging and getting dirty, which is important for solutions used in hospitals and other medical institutions, Fortrend pointed out. Fortrend added that it can tailor its solutions to meet any customer needs.
The company is located in Hall 1, booth C430 & C432.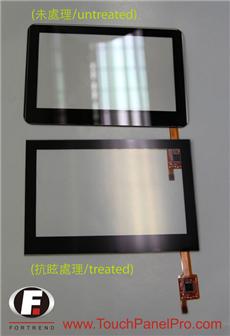 The bottom 4.3-inch touch panel has been treated with an anti-glare feature. It is easy to see the advantage when comparing it to the untreated touch panel above.
Photo: Company