Computex 2010: Cayin to showcase advanced digital signage integration
Press release, staff reporter, DIGITIMES, Taipei
Wednesday 2 June 2010
Digital signage solution professional Cayin Technology has announced that its digital signage solutions will empower over 60 screens around three main exhibition halls during Computex Taipei 2010 from June 1-5.
The company will also be exhibiting its full lineup of digital signage products and software solutions during the show, and will launch two new applications targeting mobile technologies and barcode scanners.
The company has prepared solutions for more than 60 screens in three different exhibition halls that will be powered by Cayin's digital signage system to help keep visitors abreast of the most up-to-date information and activities at the Computex show. The company noted that the Nangang Exhibition Hall will feature comprehensive coverage using Cayin's systems. The company has teamed up with other IT leaders including DS SIG, AOpen, Qisda, and Modernsolid as sponsors in order to feature digital signage solutions at seven main entrances to the Computex show.
This is the third year in a row Cayin has been a sponsor at Computex.
Cayin will also debut two advanced digital signage solutions at its booth during the show, said Ravel Chi, VP of Cayin.
Two new applications include a digital signage and mobile solution where visitors can learn how the iPhone, Google Maps and 3G technology can be integrated into a Cayin digital signage system.
The other applications are digital signage and barcode scanner solutions. Cayin has created a scenario to present how retailers can utilize a barcode scanner with digital signage to boost sales.
Other useful software applications, along with the company's complete lineup of digital signage products, will be showcased during the show. Solutions include the company's digital signage and web server & database, where Cayin xPost is used to outline the possibilities of integrating digital signage systems with web servers and databases for different vertical markets and applications.
The company will also showcase digital signage and touch screen, a solution that utilizes Cayin SMP-WEB series players to empower interactive digital signage as an information stand.
Web-based and zone-type digital signage players will also be showcased, as well as new networked digital signage players, including SMP-PRO4, SMP-WEB4, and SMP-WEBDUO.
Visitors can choose a suitable player based on their requirements, such as Full HD video, streaming video, RSS feed, multiple screens support, etc.
The company also is highlighting its management server and software solution, Cayin CMS servers, together with SuperMonitor 3 and SuperReporter 2 to enable administrators to centrally update content, schedule playlist, broadcast streaming video, monitor functioning status, and create billing reports.
Cayin's booth is located in Hall 3, G555.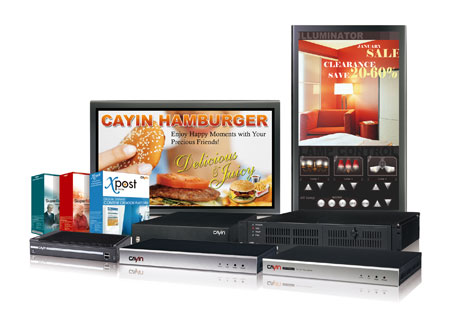 Cayin's lineup of digital signage products and software
Photo: Company