Computex 2010: PNY launches Clip-on Attache USB drives
Press release, staff reporter, DIGITIMES, Taipei
Tuesday 1 June 2010
PNY Technologies, a leader in DRAM memory and flash application products, has launched a new design concept called the PNY Clip-on Attache USB drive, which is both ultra practical and functional.
The USB storage device can also be transformed into a mobile clip-on carabineer, which can be easily fastened to key chains, travel bags, belts or any number of things. Using the PNY Clip-on Attache USB drive provides users with a compact mobile storage solution, as well as a digital accessory or fashion statement.
PNY is offering the PNY Clip-on Attache USB drives in a number of colors and the device features a smooth metallic surface, so as to be visually stimulating as well as innovative and cleverly designed.
In terms of using the unique clip-on functionality, memory storage can be accessed by sliding out and extending the USB connector. When the connector is slid back inward, it locks a loop that can be fastened onto a keychain or backpack. When the connector is slid all the way in, the device then features a hanging hook and can be hung or hooked onto a belt loop.
It only takes minutes to get the hang of using the PNY Clip-on Attache and the design cleverly does not require a cap for the connector. The Clip-on Attache is available in green, red, blue, brown and purple, with the respective colors representing densities of 2GB, 4GB, 8G B, 16GB and 32GB.
PNY is exhibiting its products at Computex Taipei 2010 at the Nangang Exhibition Hall, I1318, I1417.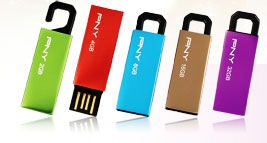 PNY Clip-on Attache USB drive
Photo: Company