Computex 2010: SSD market set for robust growth, says Memoright president Alex Kuo
Press release, staff reporter, DIGITIMES, Taipei
Tuesday 1 June 2010
The market for solid-state drives (SSD) is expected to grow robustly from 2011 onwards, due to a combination of: chip fabricators shifting to more advanced processes, rising storage density, and lower prices, according to Alex Kuo, president of Memoright, a startup offering high-end and rugged SSDs for military, vehicle, enterprise and industrial applications.
"SSDs have an advantage over hard drives in data density and power efficiency. I believe demand for SSDs as the next-generation computer storage medium will grow robustly," said Alex Kuo.
"R&D, product stability and brand awareness are the keys to a more sustainable business. SSD makers who have developed in-house design firmware & controller solutions and produce whole devices will be the winners due to ramping up customized services and demands."
Memoright is an engineering oriented company which chose to take root in a segment which requires a higher entry threshold; currently it is the second largest military level SSD player in terms of global SSD shipments. It also plans to expand its product portfolio to cover all other segments including SSDs for mass-market consumers and small- to medium-sized enterprises. In addition to its well-known military/industrial level rugged SSD GT series, the company recently unveiled ST series SSDs for enterprise applications (including 2.5-inch, 1.8-inch SSDs and SATA/PATA DOM, CF formats).
Memoright is undertaking cooperation projects to develop military-grade SSDs with customers in the US, Asia Pacific and other major markets.
"In the industrial SSD market, Memoright has landed orders for in-vehicle infotainment systems from US-based airline companies and vehicle-mounted computer vendors in Europe. We have also moved to develop MLC-based products for enterprise servers and storage system applications, with volume shipments slated to begin later in second-quarter 2010," said Alex Kuo.
Memoright will be showcasing an array of military, industrial and enterprise level ruggedized SSD products at Computex Taipei 2010.
Among the lineup are Memoright's military- and industrial-level ruggedized SSDs - GTR/ETR/GTR-P series – that meet both the US MIL-STD-810F/G and China GJB standards, according to the company. Both the US MIL-STD-810F/G and China GJB standards require environmental tests including low pressure for altitude testing, exposure to wide temperatures (both operating and in storage), humidity, fungus, salt fog for rust testing, shock, vibration and others, said Memoright.
Established in Taiwan in 2006, Memoright is a leading SSD innovator dedicated to collaborating with customers and partners on developing world-class performance, high reliability, and cost effective products. The company has R&D and support centers in the US, Europe, Wuhan, China and Taipei, Taiwan. Memoright's Computex booth is at Nangang Hall, 1F K721a.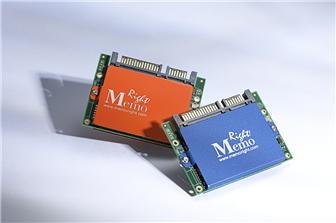 Memoright showcasing ST series semi-rugged SSD at Computex
Photo: Company