MSI launches ATI Radeon HD 5670-based graphics card
Press release, January 14; Joseph Tsai, DIGITIMES
Micro-Star International (MSI) has released its R5670-PMD1G graphics card based on AMD's ATI Radeon HD 5670 GPU for mainstream markets.
The MSI R5670-PMD1G adopts designs including GPU voltage adjustment, DisplayPort and military-class components.
The MSI R5670-PMD1G graphics card is equipped with 1GB GDDR5 high speed memory and features MSI's exclusive Afterburner overclocking utility to enhance the GPU and memory clocks, as well as GPU voltage.
The MSI R5670-PMD1G will also adopt military-class components, such as Hi-c cap and tantalum capacitors to ensure stability during overclocking, the company said. The all solid capacitor and all solid-state choke design can extend the lifespan of the graphics card and avoid high frequency noise generating from choke vibrations under high loading, MSI claimed.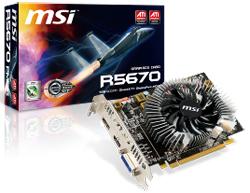 MSI R5670-PMD1G graphics card
Photo: Company