Shinsung Holdings succeeds in mass producing solar cells with 18% efficiency
Press release, January 7, Staff reporter, DIGITIMES
Korea-based solar cell manufacturer Shinsung Holdings (CEO KyunSeop Kim) has broken the barrier of 18% mono-crystalline solar cell efficiency using a screen printing method.
For several decades the world record of mono-crystalline solar cell efficiency was below 18%, but Shinsung Holdings has demonstrated an improvement of their solar cell efficiency by 2pp since the establishment of their solar cell factory in October 2008.
Shinsung Holdings has over 30 years of experience in the semiconductor field and applies special techniques in the manufacturing of solar cells. The technical experts of Shinsung Holdings have aimed to improve the solar cell conversion efficiency through cooperation and competition with specialists in the semiconductor and solar cell fields. Thus Shinsung Holdings has rapidly closed the technical gap to secure its global competitiveness within a short period of time.
A more surprising fact is that the solar cells are now entirely produced on homemade (Korean) manufacturing equipment. Shinsung Holdings is the only Korea-based company to date than can make a claim on this remarkable accomplishment.
"18% efficiency in solar cell mass production is high technology and currently not achieved even by leading global solar cell manufacturers. I expect this to be the pivotal point in increasing brand value through high efficiency mass production. Shinsung Holdings will achieve 19% conversion efficiency within 2010," announced Jeff Kim, Vice President and Director of Manufacturing of Shinsung Holdings.
The importance of competitive mass production of 18% efficiency solar cells is that they can be manufactured without the need for material investment in new or different equipment, and through the optimization of individual manufacturing processes.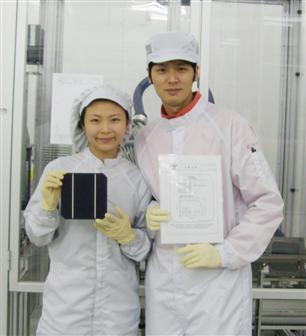 Shinsung solar cell
Photo: Company