Epson develops world's first 4K compatible HTPS TFT LCD panel for 3LCD projectors
Press release; Yvonne Yu, DIGITIMES
TOKYO, Japan, November 9, 2009 – Seiko Epson Corporation ("Epson", TSE:6724) today announced that it has developed the world's first* 4K-compatible high-temperature polysilicon (HTPS) TFT liquid crystal panel for 3LCD projectors. Measuring 1.64-inch diagonally, the new panel supports displays with resolutions up to 4096×2160 pixels.
Projector applications continue to expand. In addition to being used for business presentations, projectors are gaining wider use in the classroom, in auditoriums and at big events. Meanwhile, demand for high-performance products is expected to grow as more and more households enjoy full HD content via digital broadcasts and high definition video players.
With a resolution of nearly 8.85 megapixels, 4K panels offer four times the resolution of full HD (1920×1080), making them ideal for the high resolutions required by special applications such as industrial design, architectural design and simulations, as well as for presentations and projecting four full HD images at the same time.
To meet this market demand, Epson employed the latest process and C2 Fine technologies in the new panels and developed a new, original driving method optimized for 4K resolution to achieve high-resolution projected images with outstanding brightness and contrast.
Epson is committed to supporting the growing range of projector applications by combining its original technologies to expand and enhance its HTPS lineup with panels that further raise the performance of 3LCD projectors.
* Source: Epson research, as of the end of October 2009
Panel features
- High-resolution 4K-compatible
- 1.64": 4K (4096 x 2160 pixels) - the world's first 4K HTPS panel*
- Includes Epson's original LCD driver optimized for 4K resolution
- Benefits of using C2 Fine:
1. High contrast
2. Smooth images
3. Jet-black color reproduction
C2Fine: An original Epson technology for achieving high-quality, vivid images with high contrast by combining an inorganic liquid crystal alignment layer with vertical alignment technology
Panel specification
| | |
| --- | --- |
| LCD type | C2 Fine (VA inorganic alignment layer) |
| Process technology | D7 |
| Effective pixels | 4096 x 2160 |
| Panel size (diagonal) | 1.64 inch (4.2 cm) |
| Pixel pitch | 9 µm |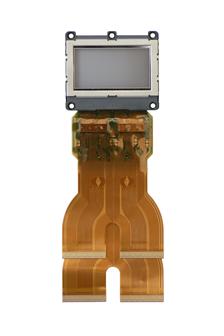 Epson 4K compatible HTPS TFT LCD panel for 3LCD projectors
Photo: Company