Asustek launches rack-servers with new Intel CPUs
Press release, September 22; Joseph Tsai, DIGITIMES
Asustek Computer has launched its new RS300-E6 series rack-mount servers featuring the Intel 3420 PCH chipset and Xeon 3400 series processors.
The RS300-E6 series supports 45nm quad-core CPUs and dual-channel DDR3 1333 memory. The series is also designed to support upcoming next-generation 32nm dual-core CPUs, and utilizes Asustek's proprietary CPU heatpipe technology to provide cooling for more stable computing operations.
Some selected models also include a special-designed slot to connect an optional Asustek PIKE card, which allows support of SAS storage.
Asustek RS300-E6 series server specifications

Model

RS300-E6/PS2

RS300-E6/PS4

CPU support

Quad-core Intel 3400 series
Dual-core Intel Clarkdale

FSB

DMI/ FDI

Chipset

Intel 3420 PCH

Memory.

6-DIMM slots supporting DDR3 1066/1333 up to 32GB for RDIMM and 16GB for UDIMM

Storage

Two SATA2 (hot-swappable)
One 5.25-inch DVD-RW (optional)

Four SAS/SATA2 (hot-swappable)
One Slim-type DVD-RW (optional)

RAID Support

RAID 0, 1 (Windows)
RAID 0, 1 (Linux)

RAID 0, 1, 5, 10 (Windows)
RAID 0, 1, 10 (Linux)

VGA

AST2050

AST2050
Sources: Company, compiled by Digitimes, September 2009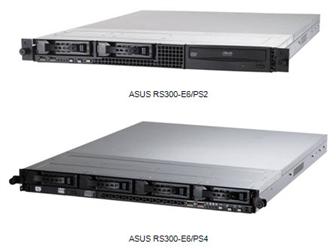 Asustek RS300-E6 series servers
Photo: Company