DRAM market improving, says iSuppli
Press release; Jessie Shen, DIGITIMES
Amid a shortage of DDR3 memory and a resulting rise in pricing, iSuppli has upgraded its rating of near-term conditions for DRAM suppliers to positive. The research firm had maintained its negative rating since September 2008 until it upgraded the condition to neutral two weeks ago.
"The improvement in circumstances is a welcome relief to a DRAM market that has been stuck in a state of oversupply for nearly three years," said Nam Hyung Kim, chief analyst for iSuppli. "The oversupply has been a disaster for the global DRAM industry, with revenues dropping from US$34 billion in 2006 to US$23.6 billion in 2008." During this period, the profitability of DRAM suppliers evaporated completely, and the combined operating loss for the entire DRAM industry amounted to US$15 billion during the last three years.
"With rising demand and limited supply for DDR3, the global DRAM industry is set for a sustainable recovery that will extend into the fourth quarter and pave the way for a robust annual increase in 2010," Kim continued.
DRAM revenues plunged by 19.5% in the first quarter compared to the fourth quarter of 2008, according to iSuppli. However, with the rise in DRAM pricing, revenues increased by 37.5% in the second quarter compared to the first. Revenues are set to continue to rise on a sequential basis by more than 20% each in the third and fourth quarters, the research firm forecast.
In addition, Kim observed a shortage of DDR3 chips during his visit to Asia. "The suppliers reported PC OEMs are making a rapid shift from DDR2 DRAM, which has been the industry standard for nearly three years, to DDR3. However, they have not yet ramped up production of DDR3 enough to meet this new demand," according to Kim.
DDR3 captured only 8.4% of total bit shipment in first-quarter 2009 and is estimated to reach 15% of total bit shipment in the second quarter, iSuppli indicated. The research firm now predicts the DDR3 shortage will persist during the third quarter because suppliers won't be able to meet current demand.
While the limited investment of DRAM suppliers is slowing their 50nm migration—a process necessary to ramp up DDR3 production quickly—the DDR3 shortage will cause supplies of DDR2 to tighten as first-tier suppliers continue to convert production from DDR2 to DDR3, iSuppli noted.
However, if DDR2 prices rise, Taiwan-based suppliers are likely to increase their utilization rates limiting price increases, iSuppli warned. Thus, a recovery in DDR2 prices could be limited, widening the price gap between DDR2 and DDR3. The price crossover between DDR2 and DDR3 is likely to arrive near end-2009 or in early 2010, iSuppli expects.
"Prices are rising in the third quarter, a time when DRAM buyers typically begin to make purchases for the holiday season," Kim noted. "Adding to the current tight supply for notebook LCD panels, the increase in DRAM prices will result in lower profitability for the PC makers in the second half of the year."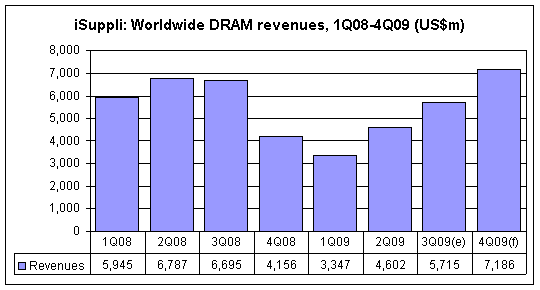 Source: iSuppli, compiled by Digitimes, July 2009